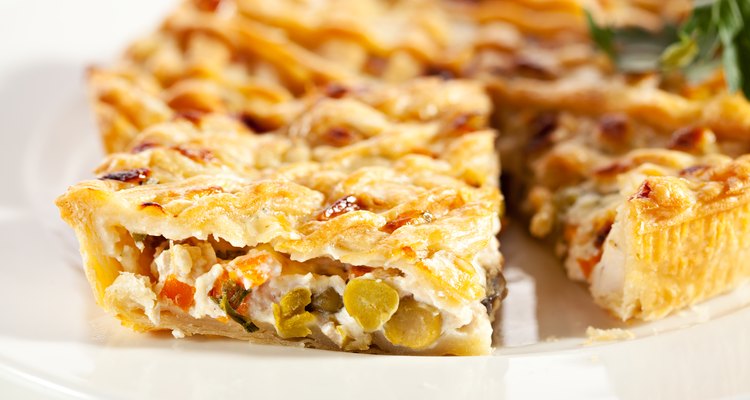 Ryzhkov/iStock/GettyImages
A Delicate Heartiness That Warms the Soul
Pie crusts are great, but puff pastry, with its delicate mille feuille texture, elevates any dish, including the humble chicken pot pie. You needn't go to the Herculean task of making puff pastry from scratch, though; using frozen puff pastry saves you time without sacrificing quality.
Total Time: 1 hour, 30 minutes | Prep Time: 45 minutes | Serves: 6 to 8
1 package (17.3 ounces) frozen puff pastry, thawed

2 pounds boneless, skinless chicken breasts, cut into 1-inch cubes

1/2 teaspoon kosher salt

1/2 teaspoon freshly ground black pepper

4 tablespoons butter

1 onion, roughly chopped

2 cups button mushrooms, sliced (optional)

2 teaspoons fresh thyme
1/4 cup all-purpose flour
2 cups chicken stock
1 tablespoon Dijon mustard

1 cup plus 1 tablespoon half-and-half

2 cups frozen mixed vegetables
1/2 tablespoon lemon juice
1 teaspoon soy sauce
1 egg yolk, lightly beaten

Heat the oven to 400F. Roll out each pastry sheet onto a piece of parchment paper. Cut the first sheet crosswise into 2-inch-wide strips. Cut the second sheet lengthwise into 2-inch-wide strips.

On a lightly floured cookie sheet, arrange the strips into a lattice. Chill the puff-pastry lattice in the freezer while you prepare the pie filling.

Season the chicken with the kosher salt and pepper. In a deep skillet, saute the chicken over medium heat in 1 tablespoon of butter until cooked through, about 6 to 7 minutes. Transfer the chicken to a plate.

Saute the onion and mushrooms in 3 tablespoons of butter until caramelized, about 7 minutes. Add the thyme to the onions and mushrooms, and spoon over to coat.

Add the flour to the vegetables, and spoon over to coat. Continue cooking the vegetables for 1 to 2 minutes. Next, add the chicken stock, mustard and 1 cup of half-and-half. Bring the mixture to a boil and cook until it's thickened, about 3 to 4 minutes.

Reduce the heat to medium. Stir in the chicken, mixed vegetables, lemon juice and soy sauce. Transfer the filling to an oven-safe, greased 2-quart serving dish.

Cover the filling with the puff-pastry lattice, trimming to fit within the serving dish. Whisk together the egg yolk and 1 tablespoon of cream and brush it over the puff pastry.

Bake the pot pie until the filling bubbles and the puff pastry develops a rich, golden brown color. Allow the pot pie to stand for at least 10 minutes before serving.
References
Writer Bio
A.J. Andrews' work has appeared in Food and Wine, Fricote and "BBC Good Food." He lives in Europe where he bakes with wild yeast, milks goats for cheese and prepares for the Court of Master Sommeliers level II exam. Andrews received formal training at Le Cordon Bleu.