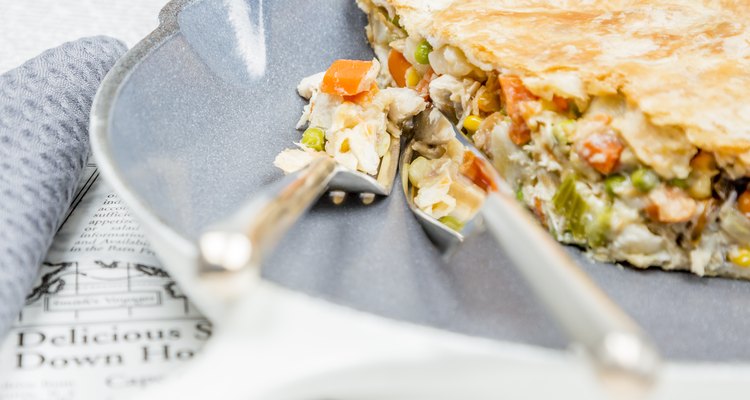 Gargolas/iStock/GettyImages
Gluten-Free Comfort Food is Still Comfort Food
Having to give up many of your favorite snacks and comfort foods is one of the worst things about celiac disease and other serious food allergies. That's exactly why finding versions of your favorite comfort foods you can still eat is so, well...comforting. This gluten-free chicken pot pie is a perfect example: Not only is it just as good as the wheat-flour version, it's quick and easy enough to pull together from leftovers on a busy weeknight. Or make it ahead and freeze.
Total Time: 45 to 50 minutes | Prep Time: 15 minutes | Serves: 6 to 8
Ingredients:
2 tablespoons oil or butter

1 cup onion, finely chopped

1 medium stalk celery, finely chopped

2 cloves garlic, minced

3 cups cooked leftover vegetables, or frozen mixed vegetables

1 1/2 to 2 cups cooked leftover chicken, diced

1 3/4 cups homemade or store-bought chicken broth

1/2 teaspoon dried sage or poultry seasoning

3/4 cup half-and-half or milk

3 tablespoons cornstarch or potato starch

Salt and pepper, to taste

2 large eggs

1 cup gluten-free biscuit mix

1/2 cup milk

3 tablespoons butter, melted

Directions:
Heat your oven to 350F, and spray or grease a 2-quart baking dish. Set it aside.

In a large skillet, heat the oil or butter over a medium burner. Place the onion and celery in the skillet and stir for 3 to 4 minutes until the onion is translucent; then add the garlic and cook for 1 more minute. Add the vegetables, chicken, broth and seasoning.

Whisk the half-and-half or milk with the starch thickener to make a smooth slurry, and then stir this into the filling mixture. Simmer briskly for 2 to 3 minutes, until the filling thickens. Taste the filling, and add salt and pepper if it's needed. Pour or spoon the mixture into your baking dish.

In a separate mixing bowl, beat the eggs lightly and then add the remaining ingredients. Stir until it comes together to form a soft dough, and then spoon this over the top of the chicken mixture to make dumplings. Bake for about 30 to 35 minutes, until the dumplings are golden on top and are cooked through when tested, cake-fashion, with a toothpick.

Let the pie stand for at least 5 minutes to cool before you serve it.

References
Writer Bio
Fred Decker is a trained chef and prolific freelance writer. In previous careers, he sold insurance and mutual funds, and was a longtime retailer. He was educated at Memorial University of Newfoundland and the Northern Alberta Institute of Technology. His articles have appeared on numerous home and garden sites including GoneOutdoors, TheNest and eHow.