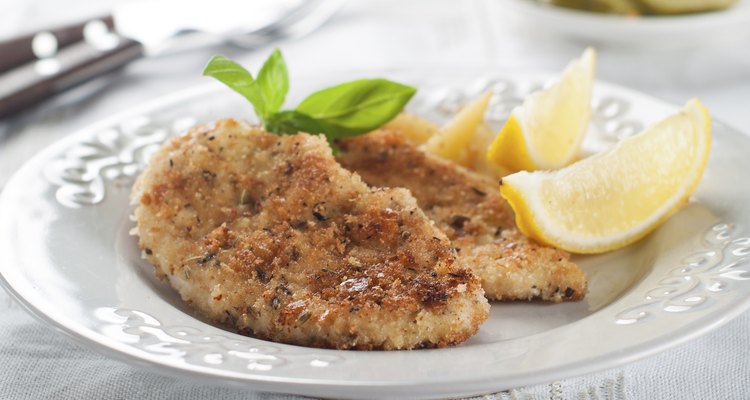 Wiktory/iStock/Getty Images
Chicken cutlets are often breaded, fried and served with heavy mashed potatoes; delicious but hardly healthy. breaded chicken cutlets also can be enjoyed without frying, keeping the dish low in fat and healthy. Bread the chicken cutlets with a variety of spices to give them extra flavor. Bake the breaded chicken cutlets in the oven and serve with rice pilaf or couscous and a side of vegetables.
Rinse the chicken cutlets under cool, running water, then pat them dry with paper towels.
Pour 1/2 cup skim milk per chicken cutlet into a large bowl.
Season the milk with 1/4 teaspoon garlic powder, 1/8 teaspoon fresh, ground black pepper and 1/8 teaspoon sea salt per 1/2 cup milk.
Put the chicken cutlets in the seasoned milk to soak. Cover the bowl with plastic wrap and refrigerate for one to eight hours.
Preheat the oven to 350 degrees Fahrenheit.
Pour 1/3 cup seasoned bread crumbs, crushed corn or rice cereal, or crushed dried onions per chicken cutlet in a shallow dish.
Season the breading with a prepackaged seasoning of choice or herbs and spices.
Transfer the chicken from the milk to the dish of breading. Cover both sides of the chicken with the breading.
Coat the bottom of a baking sheet with nonstick cooking spray.
Place the breaded chicken cutlets on the baking sheet with about 1-inch of space between them so they cook evenly.
Bake the chicken in the oven for 30 minutes.
References
Writer Bio
Nicole Adams is an accomplished writer, publishing in print and online. She has submitted hundreds of articles for websites, including CBS Local and Education.com. Adams earned a Bachelor of Science in psychology with concentrated studies in health and nutrition, and animal behavior and nutrition. She loves to cook and volunteers in animal rescue.
Photo Credits
Wiktory/iStock/Getty Images