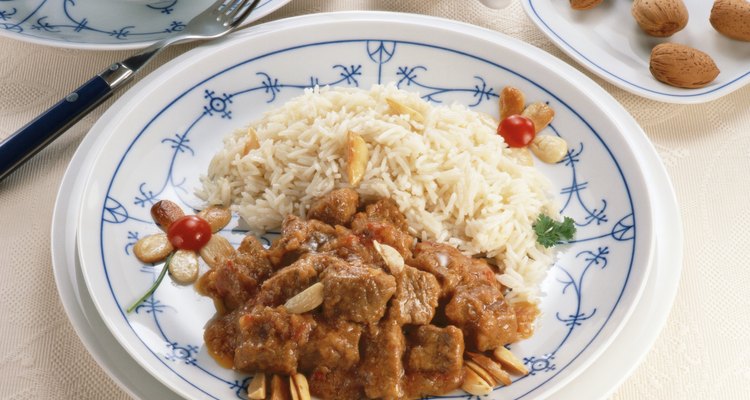 Stockbyte/Stockbyte/Getty Images
Brown rice and chicken combined in a slow cooking method create a flavorful and nutritious meal. By using a freestanding slow cooker, you can prepare this meal in the morning for a hot and ready, delicious dinner after work or a busy day. The low temperatures of slow cooking eliminate the chance of scorching foods that may overcook in an oven, and the longer cooking process leaves chicken tender and moist. As a bonus, the juices from the chicken flavor the brown rice.
Step 1
Sauté chicken pieces, skin side down, in a small amount of olive oil for 10 minutes to brown the chicken. Spray the inside of a slow cooker with cooking oil.
Step 2
Place one cup each of brown rice, chicken broth and water in a slow cooker. Dice the onion and place on top of the rice. Place peeled and sliced carrots on top of the onion. Then, layer on the chicken pieces. If desired, toss in a sprig of fresh rosemary.
Step 3
Turn the slow cooker to low. Slow cook the chicken and brown rice for 8 to 10 hours.
References
Resources
Tips
Try adding vegetables like broccoli or leeks and seasonings like garlic, thyme or basil if desired.
Warnings
Do not remove the lid of the slow cooker while cooking.
Writer Bio
L. Christine Shepard has been a print journalist since 1994, covering news, home improvement, gardening and food for the "Oakland Press," "Rochester Post," "Troy Times" and "Michigan Meetings and Events" magazine. She has a bachelor's degree in journalism from Oakland University and received the Michigan Press Association award for journalism.
Photo Credits
Stockbyte/Stockbyte/Getty Images