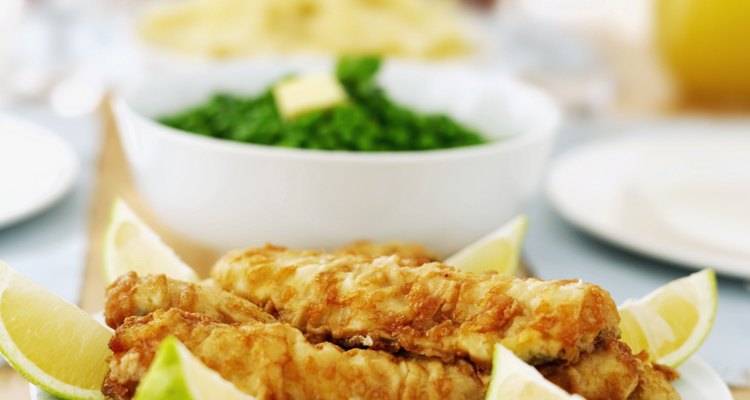 George Doyle/Stockbyte/Getty Images
Mothers are always looking for quick meals to feed their kids, especially during the week. Between school, after-school activities and homework, not to mention mom's busy schedule, time is of the essence for a midweek meal. Frozen breaded chicken -- such as patties, strips or nuggets -- can make for a quick meal paired with vegetables and rice. Baking breaded chicken takes only a couple of steps and can be hot and ready in about 15 minutes.
Step 1
Preheat the oven to 400 degrees Fahrenheit, or 450 degrees Fahrenheit for chicken strips or larger pieces. Line a baking sheet with a silicone mat or parchment paper
Step 2
Portion the chicken needed for the meal. An average serving is one chicken patty, four chicken strips or five chicken nuggets per person. Use less chicken for younger children.
Step 3
Place the breaded chicken onto the baking sheet. Place the baking sheet into the oven and bake for 15 to 20 minutes. Use an instant read thermometer and remove once the chicken pieces reach an internal temperature of 165 degrees Fahrenheit.
Step 4
Remove the chicken strips from the oven and allow them to rest for about five minutes before serving. Serve the chicken patties on sandwiches and the strips and nuggets with sauces, such as honey-mustard or ranch dressing.
References
Writer Bio
Based in Virginia Beach, Mark S. Baker has been working in editorial for more than 20 years. He has served as a writer and editor for publications such as the "Houston Post," "Boca Raton News" and "Interactive Week," among others. Baker also has a culinary arts degree from Johnson & Wales University and has his own catering business.
Photo Credits
George Doyle/Stockbyte/Getty Images