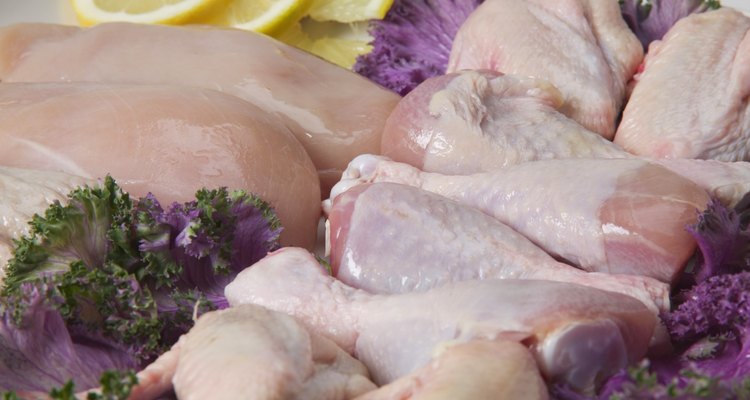 Jupiterimages/liquidlibrary/Getty Images
Of all the parts of a cut-up chicken, the thighs are probably the most underused. Chicken breasts are used for sandwiches, strips and nuggets, while legs are usually the most popular part of a fried chicken bucket or box, especially with kids. Chicken wings have gained in popularity recently as a party food. But thighs actually have the most flavor of all the chicken parts, as thighs are the muscles most used by a chicken. However, thighs can be tough if cooked incorrectly. There are a number of ways to make boneless chicken thighs on the stove top in a Dutch oven that can result in a tender and flavorful meal.
Add a tablespoon of vegetable oil to the Dutch oven and heat over medium-high heat.
Add the chicken thighs to the Dutch oven--do not overcrowd the bottom of the pan. Make the chicken in batches, if necessary. Season the chicken with salt and ground black pepper and sear the thighs until browned, about three to four minutes per side.
Add another tablespoon of vegetable oil to the Dutch oven, then saute any vegetables you wish to add as part of your meal, such as onion, garlic or bell pepper. Saute until the vegetables just begin to soften.
Add the chicken back to the Dutch oven and add braising liquid, such as chicken broth, water or beer. Add enough to submerge the chicken.
Add any additional vegetables--such as carrots or potatoes--spices or seasonings and stir the pot. Reduce the heat to medium and cover.
Simmer the chicken until it becomes tender--about 45 minutes. Drain the contents of the Dutch oven through a colander with a bowl placed underneath to catch the cooking liquid. Add a small amount of the liquid back to the Dutch oven and make a pan sauce by adding flour or cornstarch and butter.
References
Writer Bio
Based in Virginia Beach, Mark S. Baker has been working in editorial for more than 20 years. He has served as a writer and editor for publications such as the "Houston Post," "Boca Raton News" and "Interactive Week," among others. Baker also has a culinary arts degree from Johnson & Wales University and has his own catering business.
Photo Credits
Jupiterimages/liquidlibrary/Getty Images