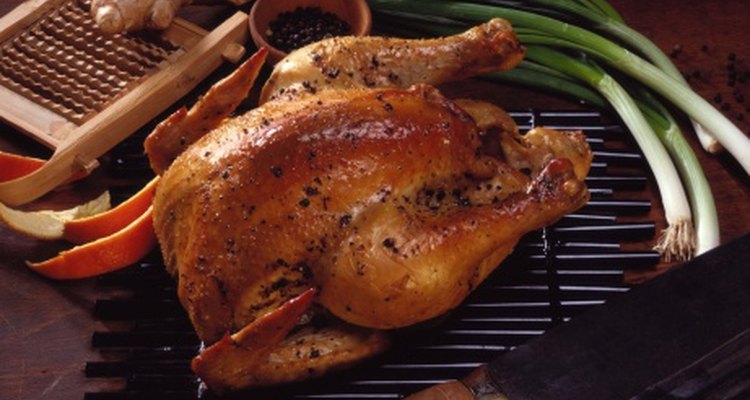 Jupiterimages/Comstock/Getty Images
The process of marinating tenderizes chicken while adding flavor. Roast chicken sometimes dries out during the long cooking time, but using a marinade keeps the meat moist and succulent. A marinade uses an acid to soften the meat and an oil to add moisture and flavor. A variety of seasonings added to the oil and acid base add further flavor to the chicken. Any spice or herb you enjoy on poultry makes a good addition to a roast chicken marinade.
Place the oil, soy sauce and lemon juice in the brining bag. Add Dijon mustard or horseradish, depending on your preference.
Peel and mince the garlic cloves. Add the garlic, thyme, salt and pepper to the bag.
Seal the bag closed and shake it to combine the marinade ingredients. Zip-top bags close more easily and are less prone to spilling.
Remove the neck from the chicken cavity. Rinse the chicken under cool water and pat it dry with a clean towel.
Place the whole chicken in the brining bag. Seal the bag closed. Turn the bagged chicken over so all the meat is coated in the marinade.
Set the chicken in a bowl and place it in the refrigerator. Turn the chicken over approximately every two hours so all the meat marinates evenly. Marinate the chicken for at least four hours and up to 24 hours.
Remove the chicken from the bag and set it in a roasting pan. Bake at 375 degrees Fahrenheit for two hours or until a meat thermometer reads 165 Fahrenheit.
References
Writer Bio
Jenny Harrington has been a freelance writer since 2006. Her published articles have appeared in various print and online publications. Previously, she owned her own business, selling handmade items online, wholesale and at crafts fairs. Harrington's specialties include small business information, crafting, decorating and gardening.
Photo Credits
Jupiterimages/Comstock/Getty Images