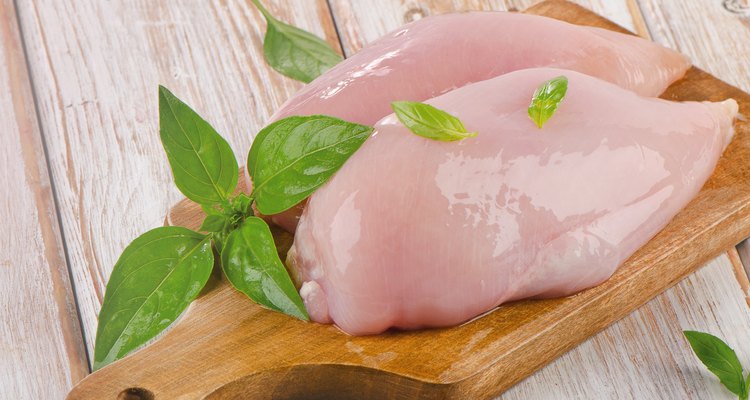 bit245/iStock/Getty Images
Mojo chicken is a tangy dish commonly served with rice for lunch or dinner in Cuban cuisine. The chicken is marinated in a spicy citrus mixture before being baked until the exterior is crisped. You can use any type of chicken pieces for mojo chicken, but chicken breasts retain the best flavor. A time of approximately four hours is required to cook mojo chicken. This recipe yields four servings; modify it to suit your dining needs.
Combine the orange juice, lime juice, olive oil, minced garlic, dried oregano, paprika, crushed red pepper flakes and sea salt in a plastic freezer bag. Seal the bag and shake it to blend the marinade.
Add boneless, skinless chicken breast halves to the freezer bag, and then press the air out and seal it. Shake the bag to coat the chicken in the marinade and refrigerate it for three hours.
Preheat the oven to 375 degrees Fahrenheit.
Coat a baking dish with a thin layer of cooking spray. Remove the chicken breast halves from the marinade and place them into the greased baking dish.
Cover the baking dish tightly with aluminum foil and place it into the oven. Bake the chicken breasts for 25 minutes, and then remove and discard the aluminum foil. Continue baking the chicken breasts for an additional 20 minutes or until their juices run clear when pricked with a fork.
Remove the mojo chicken from the oven and let it cool for five minutes before serving it.
References
Writer Bio
Serena Styles is a Colorado-based writer who specializes in health, fitness and food. Speaking three languages and working on a fourth, Styles is pursuing a Bachelor's in Linguistics and preparing to travel the world. When Styles isn't writing, she can be found hiking, cooking or working as a certified nutritionist.
Photo Credits
bit245/iStock/Getty Images