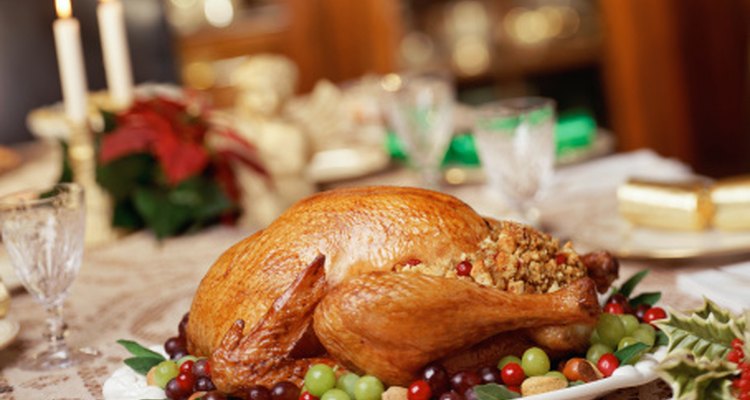 Stockbyte/Stockbyte/Getty Images
Turkey is a traditional holiday food for Thanksgiving and Christmas, but a turkey breast can be used as a healthy alternative year-round. Cooking the turkey breast can be performed in the smoker, on the grill or in the oven, with each cooking method providing a distinct flavor. Similar to the variety of cooking options, season the turkey breast with a variety of spices and marinades according to your individual taste.
Thaw the turkey breast in the refrigerator. A 4- to 5-lb. turkey breast typically requires at least 24 hours to thaw completely.
Rinse the turkey breast with cool water and remove the moisture with a cloth or paper towels.
Mix the dry ingredients -- garlic, onion powder, lemon zest and seasoning salt -- and olive oil in a bowl.
Rub the oil-and-seasoning mixture on the outer surface of the turkey breast.
Inject the meat with a turkey marinade by inserting the needle of the injector into the breast.
Reinsert the needle until the marinade is in every portion of the breast.
Allow the marinade and spices to mix with the meat for at least 30 minutes before cooking.
References
Tips
Additional seasonings to try include paprika, ginger and sage.
Writer Bio
Based in Nebraska, Jeremy Hoefs began writing fitness, nutrition, outdoor and hunting articles in 2006. His articles have been published in "Star City Sports," "Hunting Fitness Magazine" and RutWear field journals, as well as on the Western Whitetail website. Hoefs graduated with a Bachelor of Science in exercise science from Nebraska Wesleyan University.
Photo Credits
Stockbyte/Stockbyte/Getty Images