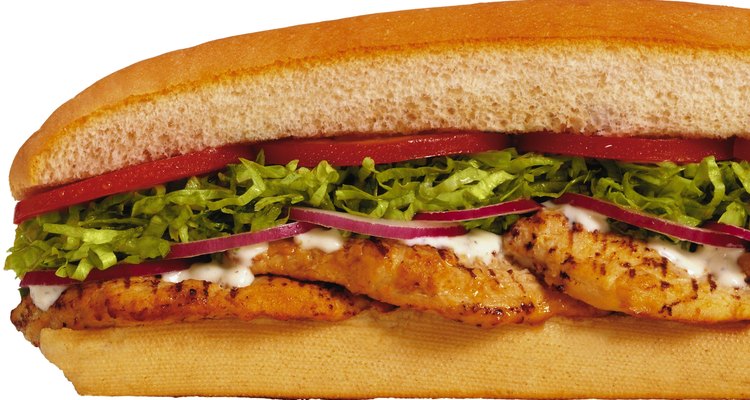 Jupiterimages/Comstock/Getty Images
Sauteing chicken that has been coated with breadcrumbs is a quick and effective method to cook juicy, tender cutlets, and using olive oil in your sauté pan will add heart-healthy benefits and rich flavor to your dish. The key to success with this technique, as with much in cooking, is careful preparation.
Preparation Makes Perfect
Step 1
Start with thawed, boneless chicken breasts. This technique does not work well with bone-in chicken pieces. If necessary, place breasts, one at a time, between two pieces of waxed paper or plastic wrap, and pound with a meat pounder until no more than 1/2 inch thick. Trim excess fat from the pounded breasts.
Step 2
Prepare three shallow dishes, each with one of the following: flour seasoned with salt and black pepper, one or two beaten eggs (depending on the number of chicken breasts you are cooking) and bread crumbs.
Step 3
Use a fork or dry fingers to place each breast first in the flour, then the egg, and finally the breadcrumbs. Make sure to coat each side of the chicken with all three ingredients. Use your fingers to pat the breadcrumbs thoroughly onto the surface of both sides of the chicken. Place the coated breasts onto a clean plate, or a piece of waxed paper.
Cook with Care
Step 1
Add olive oil to a uniform depth of 1/4 inch to a large, heavy sauté pan or skillet. Heat the oil with medium-high heat until the surface of the oil shimmers and a small bit of breadcrumbs dropped into the oil sizzles. Be patient, and do not turn up the heat to speed up the process. It should take about 5 minutes for the oil to reach the correct temperature.
Step 2
Add the breasts to the hot oil in the pan, being careful not to crowd the pan. You can always cook the chicken in batches if necessary. Cook the breasts until each side is uniformly golden brown and crisp, turning each breast once, approximately 3 minutes per side. Do not overcook.
Step 3
Drain the cooked breasts on paper towels.
References
The Essential James Beard Cookbook : 400 Recipes That Shaped the Tradition of American Cooking; James Beard with Rick Rodgers
Tips
The uncooked coated chicken breasts can be frozen for up to one month. Make sure to wrap well, and thaw completely before cooking.
It is not necessary to use extra-virgin olive oil for this technique, any cold-pressed olive oil can be used.
Breasts that have been stuffed with cheese or other ingredients can be cooked using the exact same technique outlined here. Cooking time might need to be increased slightly to account for the extra thickness.
Warnings
Use caution when cooking with hot oil. Monitor closely and avoid overheating to reduce the risk of fires or burns from splattering oil.
Eating under-cooked meat can be harmful. Ensure the chicken is thoroughly cooked before consuming.
Writer Bio
Andrea DeShazo has been writing and editing lifestyle articles since 2003. DeShazo has written for several major daily newspapers in Montana, Colorado and New Mexico. She has also taught writing to community college students on the Navajo Nation in northwestern New Mexico. DeShazo has a Master of Arts in journalism from the University of Montana, and currently writes about food and gardening from her home in the Raleigh, N.C. area.
Photo Credits
Jupiterimages/Comstock/Getty Images