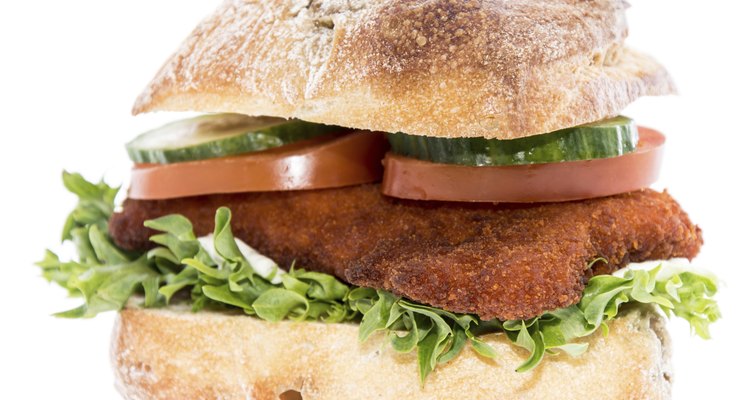 HandmadePictures/iStock/Getty Images
German for cutlet, schnitzel refers to any type of meat cutlet that is pounded flat, breaded and fried. Chicken is just one of many meats that may be used to create this irresistibly crisp dish. Simply pound chicken breasts into thin, tender cutlets, then coat with breadcrumbs and pan-fry to achieve a crisp, buttery golden brown crust. Add seasonings to the breadcrumbs to add a flavorful twist, or serve alongside a complementary sauce.
Pan-Fried Chicken Schnitzel
Cover a chicken breast loosely with plastic wrap or sandwich between two sheets of waxed paper. Using a meat mallet, pound the chicken breast to 1/4-inch thickness. Repeat with additional chicken breasts, if you are preparing more than one.
Add a generous dusting of flour to a large, shallow dish. Beat an egg in another shallow dish, until the yolk and egg are well-incorporated. Beat two or more eggs if you are preparing several chicken breasts. Pour enough breadcrumbs to coat the chicken into a third shallow dish. Season the breadcrumbs with salt and pepper, garlic salt, cayenne pepper, or dried basil and oregano, if desired.
Dredge the pounded chicken breast in the flour, shaking gently after coating to remove any excess. Dip the chicken in the beaten egg, then coat completely with breadcrumbs. Use your fingers to gently press the breadcrumbs into the chicken.
Heat a large skillet over medium-high heat. Add a generous drizzle of oil to the skillet. When the oil shimmers with heat, add one to two chicken breasts to the skillet and fry until golden brown and crispy, approximately 4 minutes per side.
Remove the fried chicken schnitzel from the skillet and let rest on a cooling rack over paper towels, to let any excess oil drain off but keep the chicken crisp. Serve while hot, with desired sauce drizzled on top or on a bed of garlic mashed potatoes.
References
Writer Bio
Christina Kalinowski is a writer from the Twin Cities who began her career in 2011. She contributes food and drink related articles to The Daily Meal. She holds a Master of Arts in sociology from Purdue University.
Photo Credits
HandmadePictures/iStock/Getty Images