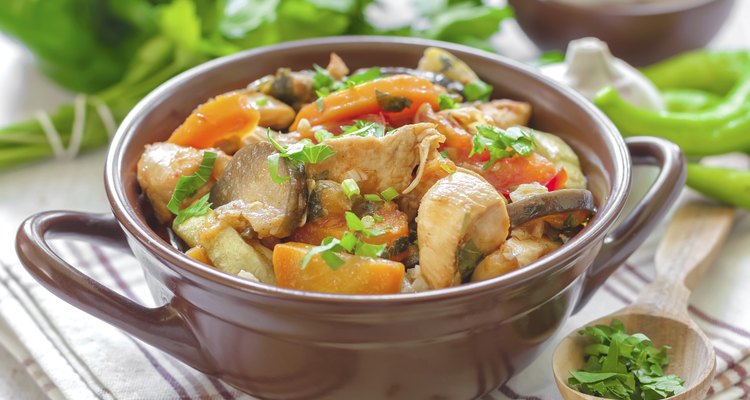 YelenaYemchuk/iStock/Getty Images
Chicken menudo is a variation on traditional menudo, a Filipino stew containing chopped or minced pork, various vegetables and raisins. This stew offers a variety of textures and flavors and is considered a healthy alternative in areas where pork is not served, or an option for those who cannot consume pork for health reasons. With the proper ingredients, it is relatively easy to prepare chicken menudo in your kitchen at home.
Rinse the chicken before cooking. Place the chicken in a large saucepan filled with water. Add half the chopped onions, half the chopped garlic, 1 bay leaf, a pinch of salt and several whole peppercorns into the dish.
Bring to a boil and skim away any fat that may rise to the surface. Lower the heat, cover and allow the chicken to simmer for 2 hours. When the chicken is tender, remove it from the pan, drain the meat and cut it into cubes.
Heat the olive oil in a second large saucepan. Sautee the other half of the chopped garlic for several minutes. Add the cubes of chicken and cook until the chicken becomes firm and slightly brown. Add the second bay leaf, liver spread, raisins, chopped onions and tomatoes.
Add the chopped potatoes, green peas, bell peppers, soy sauce and tomato paste and cook for 5 minutes. Stir thoroughly to mix all the flavors. Add more salt, pepper and the chicken broth and continue to stir the mixture.
Bring the chicken menudo to a boil and cover, allowing it to simmer for 10 to 15 minutes until the stew has thickened and the potatoes are tender.
Remove from heat and serve warm.
References
Tips
Add extra salt and pepper before serving, as the potatoes can absorb most of the salt.
Add a small pinch of sugar if the stew tastes too salty or sour.
Writer Bio
Laurie Anderson is a graduate of Texas Woman's University with a Bachelor of Arts in English. She began her professional writing career in 2010 as an assistant copywriter for an advertising agency.
Photo Credits
YelenaYemchuk/iStock/Getty Images