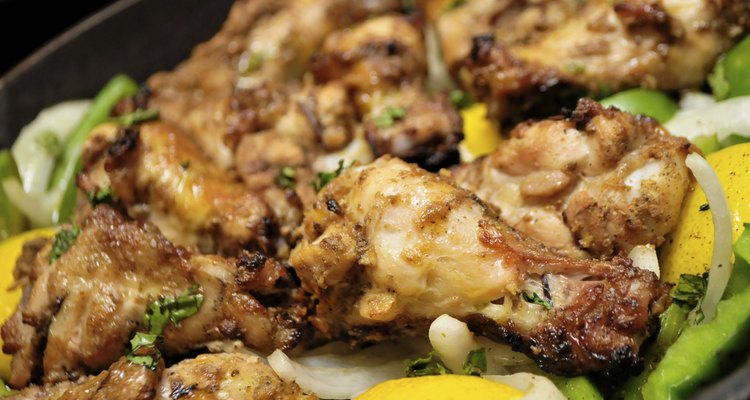 markpagejr/iStock/Getty Images
Bone-in chicken tends to be less expensive than chicken that has been skinned and boned for you, making it a good choice for families on a budget. Broiling chicken pieces brings out the rich flavor and makes the skin crispy and golden. And broiling chicken with the bones in and skin on does not add any fat or calories as long as you remove the skin before eating the chicken. The important thing to remember about broiling chicken is to keep an eye on it, because it can scorch if you're not careful.
Preheat your broiler to high. Spray a broiler pan and its tray with nonstick cooking spray.
Place the chicken pieces in a single layer on the oiled tray, leaving a little space between them. Put the thicker breast pieces in the center and arrange the drumsticks, thighs and wings around the edges.
Drizzle the chicken pieces with olive oil to help keep them moist. Season them with salt and pepper.
Place the broiler pan under the broiler, about 8 inches or so from the heat source.
Broil the chicken for 8 to 10 minutes. Slide the broiler tray out from under the heat source and turn the chicken pieces with tongs.
Broil the chicken for another 6 to 8 minutes, or until your instant-read thermometer registers 185 degrees Fahrenheit when poked into the thickest part of the meat.
References
Resources
Tips
Add spices or brush your chicken pieces with barbecue sauce before broiling for a more flavorful result.
Writer Bio
Brynne Chandler raised three children alone while travelling, remodeling old homes, taking classes at the Unioversity of California Northridge and enjoying a successful career writing TV Animation. Her passions include cooking, tinkering, decorating and muscle cars. Brynne has been writing fun and informative non-fiction articles for almost a decade. She is hard at work on her first cookbook, which combines healthy eating with science-based natural remedies.
Photo Credits
markpagejr/iStock/Getty Images