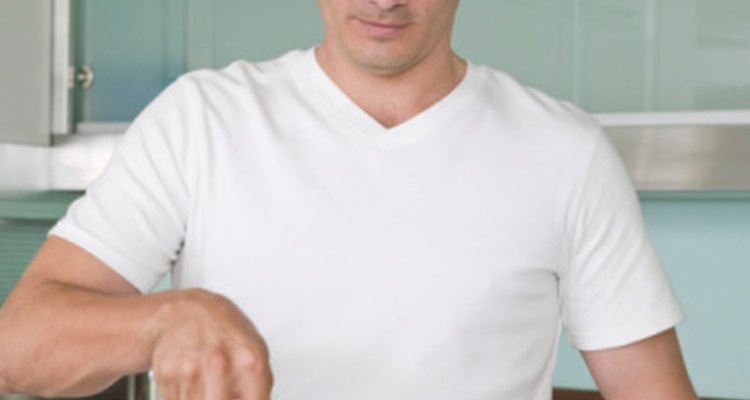 Jupiterimages/Goodshoot/Getty Images
If you have leftover precooked chicken from yesterday's dinner, use it to make a delicious and healthy stir fry. Using leftover chicken is an ideal way to save money and time in the kitchen. Be sure to place all leftover chicken into a refrigerator immediately to avoid the risk of food-borne illness. You can also freeze the cooked chicken for several months - simply thaw the meat in a refrigerator prior to creating the stir-fry.
Slice 2 cups of leftover chicken into 2-inch strips, or chop it into bite-size pieces using a sharp knife.
Mince two garlic cloves and 1 tsp. of fresh ginger. Chop one red and one yellow bell pepper. Cut the heads off of one broccoli bunch.
Coat the bottom of a wok or large skillet with sesame oil and heat it over medium-high heat. Place the garlic and ginger into the pan and fry them for two minutes, or until they are fragrant.
Add the precooked chicken and vegetables to the pan. Fry the ingredients, stirring them frequently with a slotted spoon until the chicken is heated through and the vegetables are crisp yet tender.
Pour in the desired amount of your favorite bottled stir-fry sauce and toss all of the ingredients together until they are well coated. Serve the chicken stir fry over hot white or jasmine rice.
References
Writer Bio
Elizabeth Arnold has written for a wide variety of publications and websites. Her experience includes writing travel features for "Recommend" magazine and packaging marketing copy for both Metro-Goldwyn-Mayer and Warner Bros. consumer products. Recently, Arnold was a staff writer for "Special Events" magazine. Arnold studied English at the University of Wisconsin-Milwaukee.
Photo Credits
Jupiterimages/Goodshoot/Getty Images