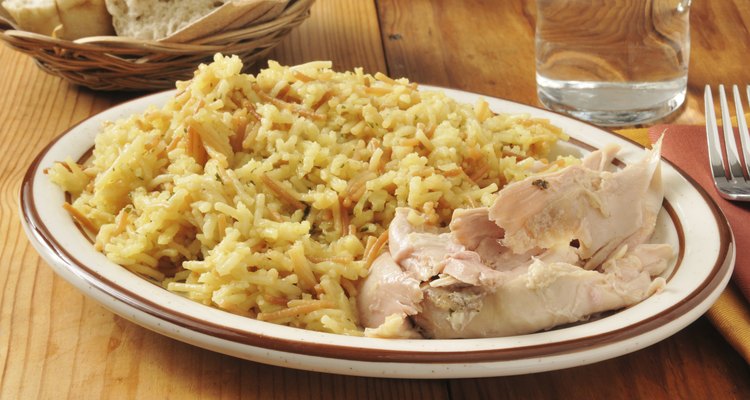 MSPhotographic/iStock/Getty Images
Start to Finish: 1 hour Servings: 4 to 6 Difficulty Level: Beginner
Chicken and rice is a simple meal you can customize to suit individual preferences. If you like it spicy, add your favorite chili peppers. Serve it with a side sala, or toss frozen peas, corn or other vegetables into the dish for a one-pot meal.
Ingredients
4 tablespoons olive oil
Large onion, diced
2 cloves garlic, finely minced
1 1/2 cups medium-grain white rice
3-pound chicken cut into parts
3 1/4 cups chicken stock
Salt and pepper to taste
1/4 cup fresh parsley, roughly chopped
Directions
Pour 2 tablespoons of olive oil into a large, high-sided skillet or stock pot over medium-low heat. Add the onion and rice. Cook, stirring occasionally, until the onion is soft and translucent and the rice begins to brown. Stir in the garlic and sauté for 30 seconds to one minute or until it becomes pungent. Remove the rice mixture and set it aside. Do not let the garlic brown or it will taste bitter.
Add the remaining olive oil to the pan and raise the heat to medium. Place the chicken pieces in the pan and sear for three minutes on each side.
Return the rice mixture to the pan and add the chicken stock. Use a wooden spoon to scrape up any browned bits from the bottom of the pan. Add salt and pepper to taste. Cover and cook for 20 minutes or until all of the liquid has been absorbed.
Sprinkle with parsley and serve.
Tips
To add spiciness to the dish, sauté fresh chilis with the onions and rice.
Add frozen vegetables to the dish when you add the chicken stock.
Warnings
Writer Bio
Tricia Ballad is a writer, author and project geek. She has written several books including two novels, teaches classes on goal setting and project planning for writers, and loves to cook in her spare time. She is living proof that you can earn a living with a degree in creative writing.
Photo Credits
MSPhotographic/iStock/Getty Images