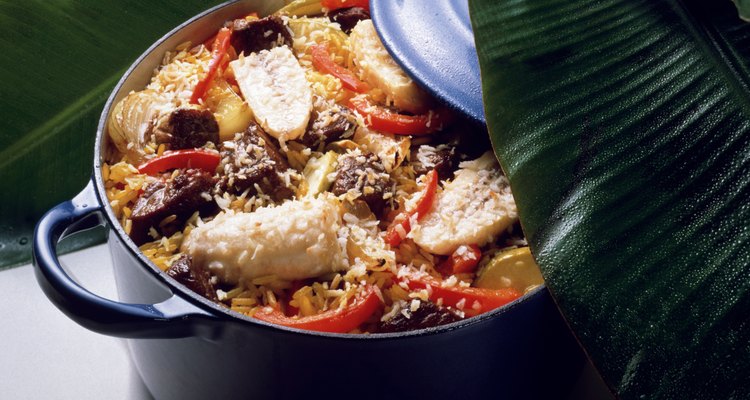 Eising/Photodisc/Getty Images
Coconut and rice go together like snow and white. The two mellow ingredients blend to create a rich background flavor that pairs well with many dishes. Typically made with coconut milk and white rice, the recipe is as versatile as it is simple. From curried chicken to stir-fried vegetables, a smorgasbord of dishes pair well with the side.
Tasty Chicken
Chicken offers as mellow a flavor as coconut rice, which leaves you open to use a variety of flavorful seasonings. Simmer chicken breasts in yellow curry sauce and serve over the rice for a traditional meal. Mix chicken, green onions, shredded coconut, chicken broth, soy sauce and the rice for a nutty dish. Go for a spicy flavor with a mixture of shredded chicken, zucchini, lemon juice, chicken broth, lemon pepper and garlic powder served over coconut rice.
Savory Beef
Beef brings a robust taste to coconut rice, turning the dish from mild to magnificent. Toss black pepper-rubbed steak strips with the nutty rice to create a simple supper. Add a slightly sweet flavor to the rice with a stir-fried mixture of sliced beef, teriyaki sauce, onions, celery and red bell peppers. Mix ground beef, soy sauce, black pepper, cumin, roasted garlic powder and mustard seed with coconut rice to create a hearty meal.
Yummy Pork
Pork has a slightly sweet taste that blends well with the mellow flavor of coconut rice. Drizzle pork chops with honey-mustard sauce and serve over the rice for a sugary twist. Mix sliced pork with lemongrass, lime juice, chili powder, parsley, salt and coconut rice for a Caribbean-style meal. Bring a robust taste to the rice with a mixture of shredded pork, tomatoes, red onions, cilantro and minced garlic.
Scrumptious Fish
Coconut rice is mild enough to allow even the delicate flavor of fish to shine through. Serve lemon-poached tilapia over the rice for a lightly flavored dish. Add a rich taste to the rice by sprinkling smoked salmon with a mixture of honey, lime juice, soy sauce and ginger powder. Dust cod with red curry powder, yellow curry powder and salt -- then bake and serve over coconut rice for a fiery dish.
Tempting Vegetables
Vegetables are as tasty with coconut rice as any meat. Saute diced zucchini and baby squash in garlic butter and serve over the rice for a quick side. Give coconut rice a healthy twist with a mixture of stir-fried carrots, water chestnuts, bok choy and green onions. Toss baby spinach, red onions, apples, celery and coconut rice together to create a sweet salad. Go for a gourmet flavor by mixing the rice with mushrooms and asparagus simmered in garlic-rosemary cream sauce.
Writer Bio
A writer since 2000, Aya Pauli has covered a variety of topics including food, fashion, beauty, health, parenting, education, decor and crafts. Her award-winning recipes have been published in food magazines such as "Taste of Home," and she is also the author of a salad cookbook. Pauli's craft projects appear in major manufacturer websites, including Dow Styrofoam. She also holds a CDA in early childhood education and works as a preschool teacher in Wyoming.
Photo Credits
Eising/Photodisc/Getty Images