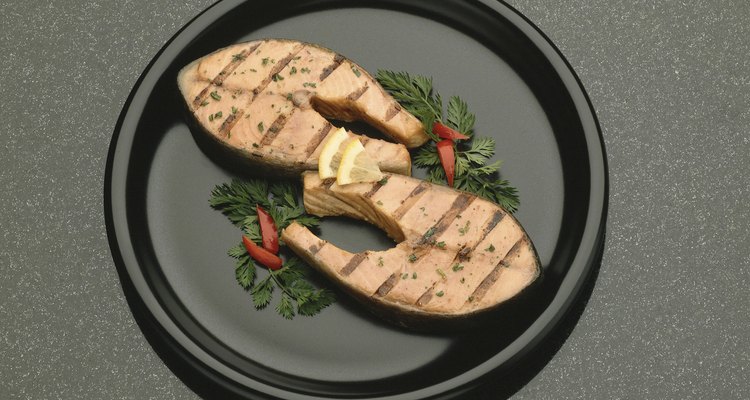 Ablestock.com/AbleStock.com/Getty Images
Salmon is rich in flavor and surprisingly filling, which means the ideal side dishes are light and simple. Rice, fresh vegetables and fruit, as well as salad and soup, all have a rightful place alongside salmon at your family dinner. Choose side dishes based on the spices used to cook the salmon. If the salmon is cooked in flavorful spices or sauce, choose mild-flavored side dishes. On the other hand, pair mild-flavored salmon with bolder side dishes.
Salad
A garden or tossed salad is suitable for any meal, but the delicate flavor of salmon calls for more distinct flavors. A tomato and mozzarella salad, for example, adds the perfect combination of flavor to balance the rich salmon. Asian coleslaw -- made with cabbage, ginger and carrots -- pairs well with grilled salmon. A cucumber and tomato salad is a light start to a fish dinner. Set out bottled salad dressings so family members can choose their favorites.
Soup
A light, refreshing soup, especially one that's tomato-based, complements salmon. Try gazpacho or a no-cook tomato soup for an appetizer that's not too filling. Mediterranean vegetable soup or minestrone also go well with salmon.
Rice
Serve steamed white or brown rice to balance highly seasoned salmon dishes, such as fish that's encrusted with spices or topped with salsa. Choose a flavorful vegetable risotto or pilaf to go with simple grilled or baked salmon. Place salmon on top of a bed of rice to impart the flavor of the fish to the rice.
Vegetable
For a casual dinner, it's hard to beat grilled corn as a side dish on a salmon dinner menu. For a more formal dinner, asparagus or artichoke hearts are an elegant addition. Other great vegetables to serve with salmon include spinach cooked with cheese, grilled eggplant, broccoli with butter, or baked or mashed potatoes.
Fruit
The flavor of salmon blends especially well with tropical fruits like pineapple and mango. Serve fresh sliced pineapple and mango, or grill the pineapple for extra sweetness. Pomegranate, plantain, kiwi and even slices of tangerine taste delicious with salmon. A tropical fruit salad with shredded coconut complements grilled salmon fillets.
References
Photo Credits
Ablestock.com/AbleStock.com/Getty Images