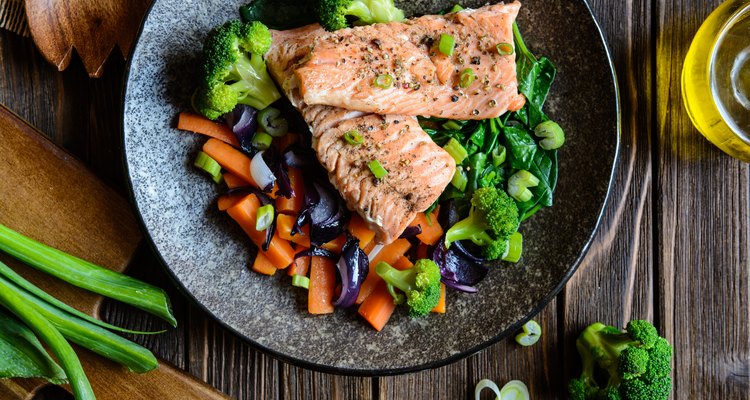 NoirChocolate/iStock/GettyImages
Baked Sockeye Salmon for an Easy, Delicious Meal
You can't really go wrong with any cooking method for rich and flavorful sockeye salmon. It stands up to bold flavors in sauces, but also tastes great with a sprinkling of salt and pepper and a splash of lemon juice. Grilling the salmon gives you a nicely browned exterior and crispy skin, and poaching keeps the salmon flesh meltingly soft. But for convenience of preparation and cleanup, and for excellent results every time, baking in the oven gives you the best way to prepare salmon.
This recipe includes a tangy spinach pesto sauce to match the bold flavor of the salmon. Skip the sauce in favor of a simpler preparation if you wish. Or, if pesto isn't your thing, add your favorite Greek cucumber sauce in summer or a maple sugar glaze in winter.
Total Time: 25 minutes| Prep Time: 10 minutes | Serves: 4
2 cups spinach leaves
1/4 cup plus 1 tablespoon extra-virgin olive oil
2 tablespoons walnut pieces, toasted
2 medium cloves garlic, chopped
1/4 teaspoon kosher salt
1 1/2 tablespoons Parmesan cheese, grated
4 sockeye salmon fillets
Heat the oven to 275F.
In a blender or food processor, combine the spinach leaves, 1/4 cup of olive oil, walnuts, garlic and salt.

Pulse the pesto ingredients, stopping to scrape down the sides until a sauce forms. Add more oil as needed. 
Pour the pesto into a small bowl, and stir in the Parmesan cheese. Set the pesto aside while you cook the salmon.
With your fingers or fish tweezers, pull out any long bones from the fillets.
Place the salmon fillets, skin side down, on a baking sheet or pan lined with foil, and brush the tops with 1 tablespoon of olive oil.
Bake the fillets for 10 minutes. Check them for doneness by scraping the top 1/4 inch with a fork to see if the fish flakes easily and the flesh is no longer transparent and shiny. Bake for 3 to 4 minutes longer if the fillets don't flake easily.
Remove the fish from the oven and let it rest for 3 to 4 minutes before topping it with the pesto sauce. Serve any extra sauce in a separate bowl on the table.
References
Writer Bio
Susan Lundman began writing about her love of cooking, ingredient choices, menu planning and healthy eating after working for 20 years on children's issues at a nonprofit organization. She has written about food online professionally for ten years on numerous websites, and has provided family and friends with homemade recipes and stories about culinary adventures. Lundman received her M.A. from Stanford University.