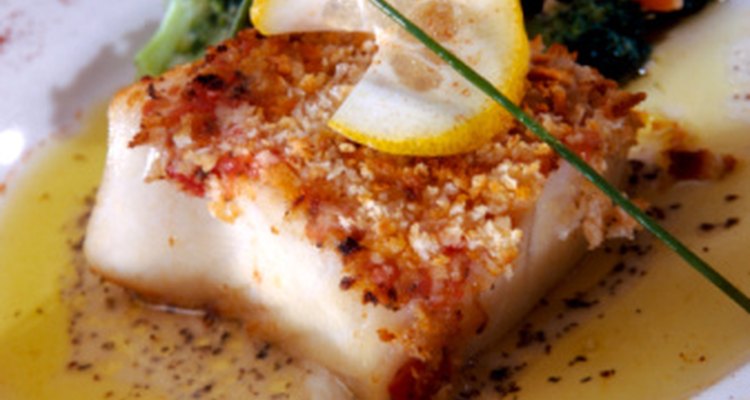 Jupiterimages/liquidlibrary/Getty Images
Sea bass is a whitefish with a firm texture and skin. As members of the largest family of fish in the world, sea bass is commonly sold in supermarkets. Searing bass plays perfectly on its tender meat, adding a crust to the skin without drying out the flesh. A variety of seasonings, herbs and spices can be added to the fish, depending on the cuisine and the cook's personal preference.
Rinse the fillet under running water and dry it completely with paper towels. Place the fillet in a shallow dish.
Pour the melted butter and lemon juice over the fish, turning it once to coat it. Sprinkle the seasonings evenly over the fish, constantly turning it for an even application.
Allow the fish to marinade up to 30 minutes. Do not marinate the sea bass longer than 30 minutes, as it can cause the flesh to deteriorate.
Set the frying pan on the stove at medium-high. Place the butter in the pan and allow it to melt completely.
Swirl the butter in the pan to coat the bottom evenly. Drop a droplet of water in the pan; it is ready when the water droplet begins to sizzle.
Place the fillet in the frying pan, skin side up. Cook for three minutes on one side.
Flip the fillet over and cook for another three to five minutes, until the entire fillet has become opaque on the inside.
Remove the fillet from the pan and serve immediately.
Writer Bio
Based in Kingston, Canada, Samantha Lowe has been writing for publication since 2006. She has written articles for the "Mars' Hill" newspaper and copy for various design projects. Her design and copy for the "Mars' Hill" won the Associated Collegiate Press Pacemaker award in 2008. Lowe holds an Honors BA from Trinity Western University, and a MSc in Occupational Therapy from Queen's University where she is currently doing her PhD.
Photo Credits
Jupiterimages/liquidlibrary/Getty Images