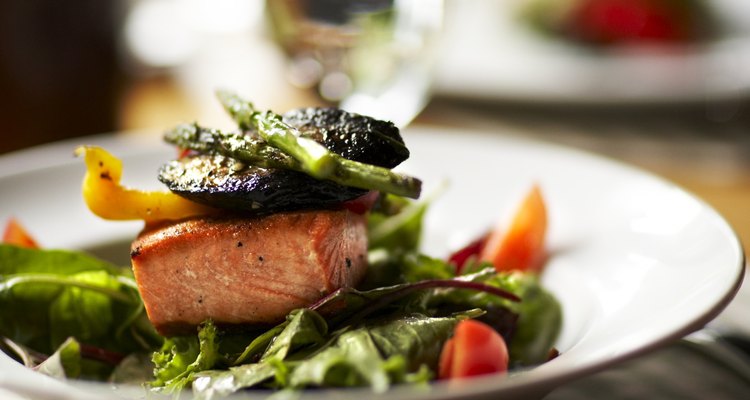 Thomas Northcut/Photodisc/Getty Images
Though an undeniably labor-saving cooking method, broiling can overdry or break down some foods, including non-fatty, flaky-fleshed fish. The naturally oily and firm quality of the salmon, however, ensures that it will stay moist and intact even after broiling. Little preparation is needed for this cooking, especially if you use salmon fillets. If possible, buy 1-inch-thick salmon fillets already cut to single-size portions of about 6 ounces each. Make individual packets for each guest.
Set the broiler pan 5 inches below the broiler and turn the broiler on to preheat it.
Rip out a rectangle of aluminum foil, about 40 inches long, from the roll. Lightly spray the top with cooking spray.
Spray the salmon fillet on both sides with cooking spray. Set the salmon fillet, skin side down, just off-center of the aluminum foil rectangle. Season the salmon with salt and pepper. Top the fillet with butter and lemon slices, if desired.
Fold the other half of the foil rectangle over the salmon fillet, crimping all of the edges tightly shut. Repeat with remaining fillets.
Set the foil-wrapped fillets on the broiler rack. Put the rack under the broiler and set the timer for 10 minutes.
Remove the salmon from the oven when a cooking thermometer inserted into a sample fillet, through the foil, indicates that the salmon has reached an internal temperature of 140 degrees Fahrenheit.
Unwrap each foil packet and set the salmon on plates or on a single platter. If you are serving your guests picnic-style, set the foil packets on their plates for them to unwrap.
References
Writer Bio
Ellen Douglas has written on food, gardening, education and the arts since 1992. Douglas has worked as a staff reporter for the Lakeville Journal newspaper group. Previously, she served as a communication specialist in the nonprofit field. She received her Bachelor of Arts from the University of Connecticut.
Photo Credits
Thomas Northcut/Photodisc/Getty Images