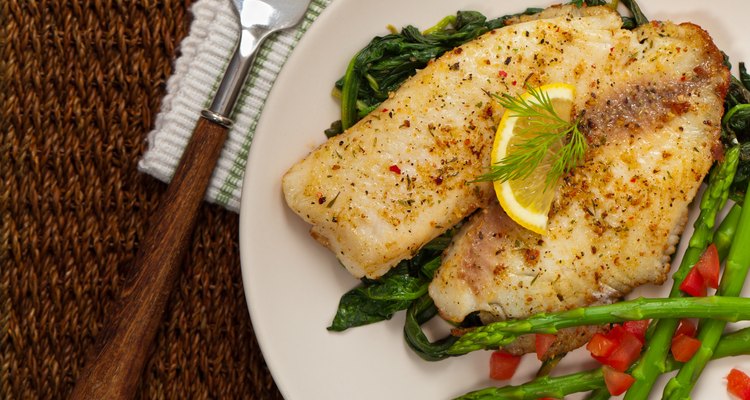 alisafarov/iStock/GettyImages
Atlantic cod is a readily available fish with a light, mild flavor which lends itself to a variety of preparations, including the restaurant favorite, deep-fried fish and chips. Cod can also be lightly coated and pan-fried or oven-roasted to create savory meals minus the calories of deep-fried preparations. Serve alongside oven-roasted or mashed potatoes and fresh vegetables for a healthy and delicious meal.
Oven-Roasted
Rinse the cod fillets and pat dry with paper towels. Preheat the oven to 450 degrees Fahrenheit.
Drizzle olive oil onto the cod fillets and arrange them in a single layer in a baking dish. Add seasonings such as salt and pepper or fresh rosemary and parsley.
Bake the fillets until they turn golden brown and flake easily with a fork, approximately 8 to 10 minutes per inch of fillet thickness. Remove the fillets from the oven. Serve with lemon wedges and oven-roasted potatoes, fresh green beans or sauteed spinach.
Pan-Fried
Prepare a simple egg wash mixture by combining 1 egg for every 2 cod fillets with a small amount of milk in a bowl. In a separate bowl, combine 1/2 cup of flour for every 2 cod fillets with small pinches of seasonings such as garlic salt, paprika and dried parsley flakes.
Dip the cod fillets into the egg mixture and then dredge in the flour mixture, completely coating both sides.
Heat a small amount of oil in a skillet over medium-high heat. Shake any excess flour from the cod fillets and add the fillets to the pan, one at a time.
Cook the fillets until the fish flakes easily with a fork, approximately 2 minutes per side. Remove from the pan and place the fillets on paper towels to absorb any excess oil. Season with salt, if desired, and serve. Pair them with mashed potatoes or glazed carrots.
References
The Food Lover's Companion: Sharon Tyler Herbst and Ron Herbst
Resources
Tips
When purchasing fish fillets, check to see that they have a fresh odor, firm texture and a moist appearance.
When purchasing frozen fish fillets make sure they are solidly frozen and don't have an odor. Do not purchase frozen fish fillets if there are any white, dark, icy or dry spots present.
Warnings
Consumption of undercooked fish increases the likelihood of exposure to food-borne illness. To test for doneness, insert an instant-read thermometer into the thickest part of the fish. When the thermometer reads 145 F, it's done.
Writer Bio
Christina Kalinowski is a writer from the Twin Cities who began her career in 2011. She contributes food and drink related articles to The Daily Meal. She holds a Master of Arts in sociology from Purdue University.