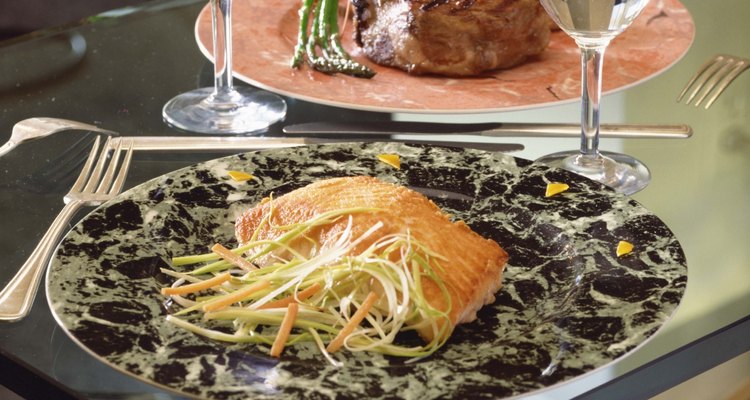 Jupiterimages/Comstock/Getty Images
Because of its mild taste and flaky texture, tilapia is a fish with wide appeal. This lean, white fish meat is a favorite of most dieters because it's low in calories and inexpensive. It is also a good source of protein. Although it is not a fatty fish, it contains omega-3 fatty acids, which decrease inflammation. Fresh tilapia steaks are firm to the touch, have a translucent appearance and a mild ocean-like aroma. Tilapia's mild taste lends it to a variety of cooking methods including baking, frying, and sauteing. Oven grilling is a healthy and time-efficient way to prepare tilapia.
Rinse the tilapia fillets in cold, running tap water. Pat them dry with paper towels.
Turn the oven to the broil setting to allow the broiler elements to begin heating.
Place the fillets on a baking sheet large enough to accommodate the fillets. Leave space between the fish pieces for even cooking.
Brush one side of each tilapia fillet with melted butter, using a pastry brush. Turn the fish over and repeat the process.
Cut a fresh lemon into quarters. Squeeze the juice of one-quarter fresh lemon on the surface of each buttered fillet and lightly sprinkle with black pepper.
Slide the baking sheet into the oven, approximately six inches from the broiler's heating element. Grill for three minutes. Slide the baking sheet out of the oven, turn the fillets over with a spatula and grill for an additional three minutes or until the fillets turn white and easily flake with a fork.
Remove the hot tilapia fillets from the oven. Serve with fresh lemon wedges on a warm platter or individual plates to maintain the warmth of the fish.
References
Tips
Tilapia is a good addition to salads, soups and sauces.
Alternatively, if you want to cut back on saturated fat, try substituting the melted butter with olive oil.
Warnings
Tilapia is the most widely farmed fish available. Choose wild tilapia, if possible, since it is significantly higher in omega-3 fatty acids than the farm-bred variety.
Writer Bio
Karen Curinga has been writing published articles since 2003 and is the author of multiple books. Her articles have appeared in "UTHeath," "Catalyst" and more. Curinga is a freelance writer and certified coach/consultant who has worked with hundreds of clients. She received a Bachelor of Science in psychology.
Photo Credits
Jupiterimages/Comstock/Getty Images