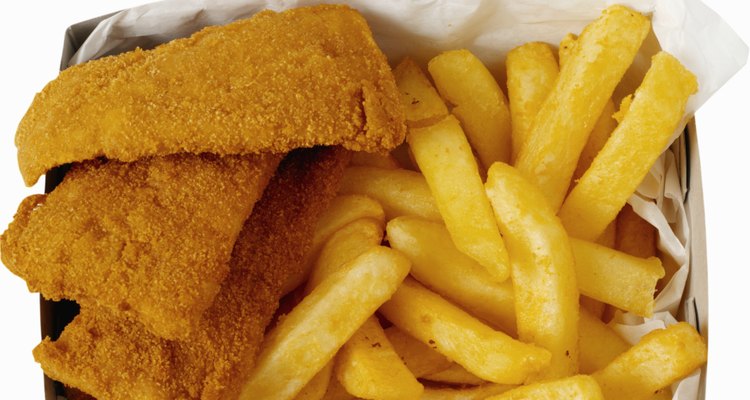 Ciaran Griffin/Stockbyte/Getty Images
Mullet is a dish widely enjoyed in southern parts of the United States where it is abundantly found fresh near its native habitat along the south Atlantic Coast and the Gulf Coast of Florida. While many species of mullet exist, striped and silver are the most common, with flavors that range from delicate to earthy. Mullet is best when it's fresh, so if you're lucky enough to encounter fresh-caught mullet, try a classic Southern preparation by either pan or deep-frying it.
Pan-Fried Mullet
Step 1
Rinse the mullet fillets with cold, running water and pat dry with a paper towel. Season the mullet, if desired, with salt and pepper, fresh lemon juice and fresh herbs such as parsley.
Step 2
Heat a skillet over medium heat, adding enough butter to coat the bottom of the pan. In a shallow dish, add enough flour to coat the mullet. Dredge each fillet by dipping and rolling in the flour until completely coated on all sides.
Step 3
Add the flour-coated mullet fillets to the skillet when the butter has melted completely and is bubbling. Cook for 4 to 5 minutes on each side, or until the fish flakes easily with a fork. Remove the mullet from the pan and let it rest on paper towels. Serve with sauteed almond slivers or pair it with a white wine sauce, if desired.
Deep-Fried Mullet
Step 1
Mix equal parts flour and cornmeal in a bowl, enough to completely coat the mullet. In a separate bowl, add a can of beer, enough flour to thicken the beer batter to the desired consistency and any desired seasonings. Try using simple seasonings such as salt and pepper. Mix the batter until combined and let sit for an hour.
Step 2
Heat enough oil to completely submerge the mullet in a large pot or an electric deep fryer to 375 degrees Fahrenheit. Peanut oil is a good choice as it imparts a nutty flavor to the fish, but you can also use vegetable oil.
Step 3
Rinse the mullet fillets with cold, running water and pat dry with a paper towel. Dredge the mullet fillets first in the flour and cornmeal mixture, then completely submerge in the beer batter.
Step 4
Hold the mullet fillet above the bowl, letting the excess beer batter drip off. Add a few of the mullet fillets to the hot oil at a time. Fry for a few minutes, turning to cook on each side, until the mullet turns golden brown. Remove from oil and drain on paper towels. Let the heat return to 375 F and repeat with the remaining mullet. Serve with malt vinegar or tartar sauce, if desired.
References
The Mostly Mullet Cookbook: A Culinary Celebration of the South's Favorite Fish; George Griffin
Fish & Shellfish: The Cook's Indispensable Companion; James Peterson
Tips
Mullet can have a strong, earthy flavor that is unpleasant to some palates and is a result of the fish's diet. This flavor often accumulates in a dark strip that runs down the center of the fillets. Simply remove this dark strip or have your fishmonger do it for you to avoid potentially unappetizing flavors.
The skin on mullet is edible, so you can prepare mullet with it on or off, depending on your personal preference.
Warnings
Consumption of undercooked fish can result in a foodborne illness. Insert an instant-read thermometer into the thickest part of the fish. When the thermometer reads 145 F, it's done.
Writer Bio
Christina Kalinowski is a writer from the Twin Cities who began her career in 2011. She contributes food and drink related articles to The Daily Meal. She holds a Master of Arts in sociology from Purdue University.
Photo Credits
Ciaran Griffin/Stockbyte/Getty Images