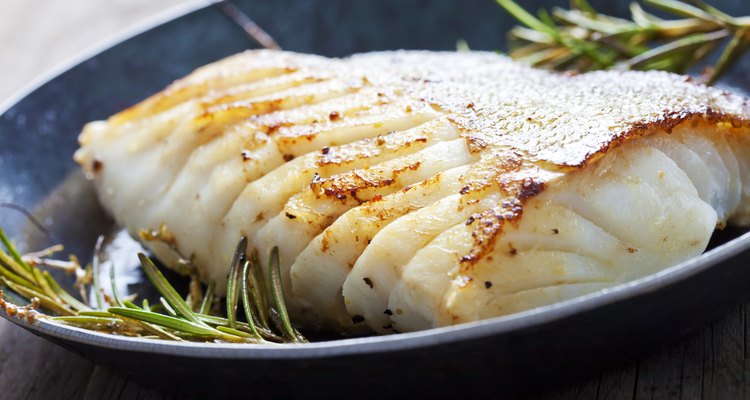 Tuned_In/iStock/Getty Images
Pan frying is a quick and fuss-free way to cook fresh fish. Catfish, cod, tilapia, whiting and other firm-fleshed white fish turn out deliciously crunchy on the outside, hot and tender on the inside, but almost any fillet will do.
Frying isn't the most calorie-conscious method for preparing fish, but using olive oil — which contains heart-healthy monounsaturated fats — is a better choice than butter or stick margarine, which are high in saturated or trans fats. Make this fish dish your own by adding your favorite spices and herbs to the cornmeal coating.
Rinse the fresh fillets under cold water and lay them on paper towels. Wash your hands with soap and hot water after handling raw fish to prevent contamination with cooked food.
Pour the cornmeal, enough to liberally coat all sides of the fish fillets, into the pie plate. Add a dash of salt and freshly ground black pepper to taste. Sprinkle in your choice of dried herbs or spices and mix with a fork.
Lay each fillet in the cornmeal mixture, pressing down so the cornmeal coats the fish. Flip the fillet over and coat the other side.
Set the frying pan on the stove and add enough olive oil to cover the bottom of the pan with about 1/8 inch of oil. Turn the heat to medium-high, but don't let the oil smoke.
Flick a drop of water into the hot oil; if it snaps, the pan is ready for the fish. Lay the fillets in the pan in a single layer.
Cook the fish for about 10 minutes, or until the edges begin to turn brown. Flip the fillets with the spatula, gently to avoid splattering hot oil, and cook the other side for another 10 minutes.
Test the fish for doneness: Press the fork into the thickest part of each fillet. If the fish is opaque and flakes easily, and the cornmeal crust is crispy, it's done.
Line a clean platter with paper towels and lay the fried fillets on them to drain for a few minutes. Serve with fresh lemon wedges.
References
"Better Homes and Gardens New Cook Book, 15th Edition;" Better Homes and Gardens; 2010
Photo Credits
Tuned_In/iStock/Getty Images