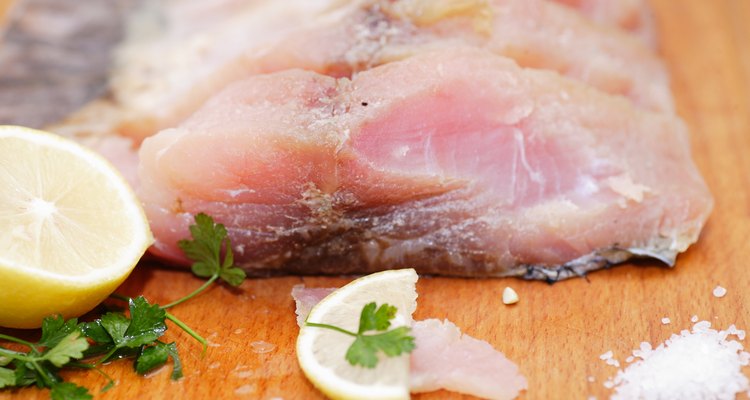 prohor08/iStock/Getty Images
Haddock has a mild, slightly sweet taste and is popular choice for fish and chips. It can be cooked on a stove in lighter preparations than deep fried, including poached, sauteed or steamed. According to "Prevention Magazine's Nutrition Advisor," haddock is an excellent low-fat source of protein, with 0.8 grams of fat and 20.6 grams of protein on a 3-ounce serving. Haddock also is high in vitamin B-12 and a good source of magnesium, niacin, iron and vitamin B-6.
Steamed Haddock
Place the haddock in a large freezer bag. Add the tamari, orange juice, garlic, salt, pepper and ginger. Seal the bag tightly. Squeeze the bag and turn it over a few times to coat the fish with the marinade.
Place the bag into a refrigerator for 30 minutes.
Add 2 inches water to the bottom of a large steamer. Preheat the water over high heat until it comes to a boil.
Remove the fish from the marinade. Place it in a single layer in the steamer insert. Cover and reduce the heat to medium-low.
Steam the fish for 10 minutes, or until the fish is opaque in the center. Serve immediately.
Sauteed Haddock
Sprinkle both sides of the haddock fillets with the salt, pepper, lemon pepper and garlic powder. Pat the seasonings into the fish.
Add the olive oil to a large frying pan. Place on the stove over medium-high heat. Preheat the oil until it barely starts to smoke.
Place the fish pieces, skin side down, in the pan. Cook for four minutes.
Turn the haddock fillets over carefully. Cook for four more minutes. The fish is done when it flakes easily in the thickest part when tested with a fork.
Poached Haddock
Place the haddock fillets in a large frying pan. Add the wine, fish stock, lemon juice, salt, pepper and garlic to the pan.
Bring to a boil and cover with a tight-fitting lid. Reduce the heat to medium-low.
Poach the fish for 10 minutes, or until the center flakes easily when tested. Remove from the poaching liquid and sprinkle with parsley. Serve immediately.
References
"Cooking the Whole Foods Way"; Christina Pirello; 1997
"The Illustrated Cook's Book of Ingredients"; DK Publishing; 2010
"Prevention Magazine's Nutrition Advisor"; The Editors of Prevention Magazine; 1994
"The "Read My Lips" Cookbook"; Robert S. Swiatek; 2002
Writer Bio
Sarah Bourque has been a freelance writer since 2006 and is based in the Pacific Northwest. She writes and edits for the local publisher, Pacific Crest Imprint and has written for several online content sites. Her work recently appeared in "The Goldendale Tourism and Economic Development Magazine" and "Sail the Gorge!" magazine. She attended Portland Community College where she studied psychology.
Photo Credits
prohor08/iStock/Getty Images