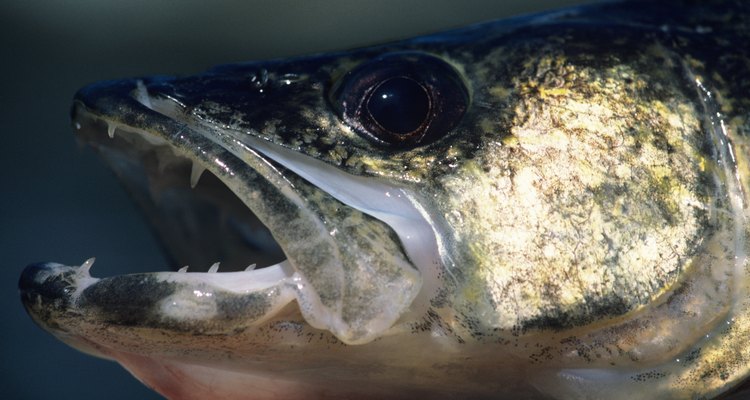 Tom Brakefield/Stockbyte/Getty Images
Walleye are the largest member of the perch family, according to the Michigan Department of Natural Resources. Walleye cooked using a dry heat method like broiling has about 148 calories per 4.4-oz fillet. It is rather lean with 2 g of fat, high in protein and a good source of potassium. Walleye can be prepared by frying, baking, grilling or broiling. However, broiling walleye in foil makes for a quick cleanup and seals in the flavor.
Set the broiler rack 4 inches from the heat source. If the walleye is frozen, set the broiler rack 6 to 8 inches from the heat source.
Preheat your broiler for 10 minutes.
Spray the broiler pan with cooking spray.
Place the walleye on a sheet of foil big enough to fold all the way around the fish.
Drizzle the walleye on both sides with olive oil. Salt and pepper your walleye to taste. Add other seasoning or flavoring, such a slice of lemon or 2 tbsp. of wine, if desired.
Wrap the foil around the walleye, and seal the ends of the foil by folding them.
Place the wrapped walleye on the broiler pan, and place the pan on the broiler rack.
Broil the walleye for 10 minutes or until done. Check for doneness by carefully pulling back the foil. Walleye should be opaque and flake when touched with a fork.
References
Writer Bio
Katina Coleman is a research psychologist who has been writing since 2004. She has published and reviewed articles in various academic journals and consults on research projects related to health and education. Her research interests center on patient-doctor communication and cancer health disparities. Coleman holds a Ph.D. in psychology from Wayne State University.
Photo Credits
Tom Brakefield/Stockbyte/Getty Images