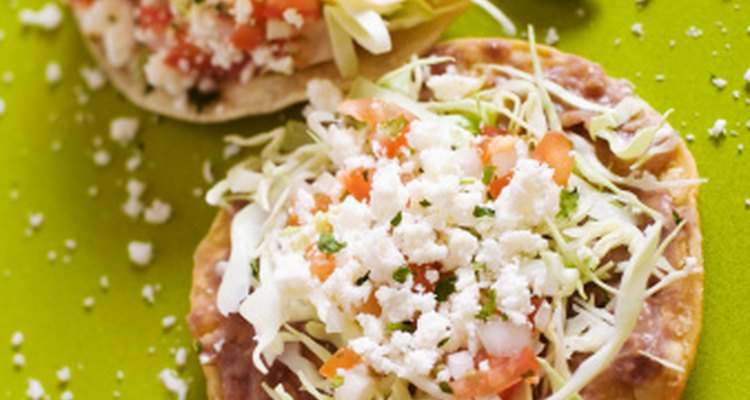 Jack Hollingsworth/Photodisc/Getty Images
The Natural Café has several locations in California. It serves vegetarian and vegan meals as well as fish and meat dishes. Many of the entrees have a southwestern flavor, and The Natural Café serves a variety of produce that includes less common types, such as jicama or yambean, which is a sweet, crispy Central American tuber. The Natural Café also offers whole grain options such as brown rice and whole wheat tortillas and pitas.
Pizza
The Natural Café serves pizzas on whole wheat pita crust. The "mangia marinara" features homemade marinara sauce, onions, olives, mushrooms, and jack cheese. The pita crust and marinara make this pizza healthier than the typical pie -- a 6-and-a-half-inch whole wheat pita has 170 calories and 4.7 g of fiber, much better than white flour crust, and marinara sauce is low in fat and high in lycopene. The olives are high in healthy monounsaturated fats, but you might want to leave them off if you're watching your sodium intake. The "mama mia" pizza is made with from-scratch pesto sauce, grilled chicken, artichoke hearts, tomato and jack cheese. Artichokes contain no fat and are packed with potassium and fiber. The pesto sauce and jack cheese make this a fatty meal, so eat in moderation if you're watching your weight.
Salads
The Natural Café has a large selection of salads. The albacore salad is nutritionally well rounded -- it is made with red leaf, green leaf and romaine lettuce, red onions, carrots, red cabbage, alfalfa sprouts, tomatoes and jicama. The salad is topped with a mixture of chunk white albacore tuna, pickle relish, mayonnaise and onions. The jicama and carrots are both high in vitamin C, the carrots are high in vitamin B-6 and folate, and the three lettuces add variety along with riboflavin, calcium and potassium. The tuna adds a boost of filling protein and omega-3 fatty acids.
Vegetarian Meals
One of the healthiest meals at the Natural Café is the "Mr. Natural," which is steamed seasonal vegetables served over brown rice. For an extra charge, you can add cheese, grilled chicken, sautéed tofu or tahini-ginger sauce. Tahini is a sesame seed paste. The USDA says that brown rice has about six times the fiber as white, and steaming adds no fat to the veggies. The "S. B. veggie grill" is like the "Mr. Natural" but slightly more sinful, since the veggies are grilled with a balsamic vinaigrette marinade. The "yogi special" is sautéed tofu with ginger-soy sauce served with brown rice. This is a high-protein, high-fiber dish; the soy sauce means it is also high in sodium.
Chicken and Fish
The chicken and fish entrees include southwestern-inspired dishes such as the "ranchero chicken quesadilla," which is ranchero chicken and cheese in a whole wheat tortilla, topped with enchilada sauce, sour cream and guacamole. The guacamole adds healthy monounsaturated fat to this meal; you can skip the sour cream to lower the saturated fat in this dish. The "Cabo fish taco" is a sautéed fish filet with chunky tomato salsa, cheese, shredded carrot, cabbage and lime in a corn tortilla, with chips and salsa. The cabbage is an excellent source of vitamins C and K, the fish contains healthy fatty acids and iodine, and the carrot and lime are also full of vitamin C. The fried tortillas add lots of fat to this dish, though.
Sandwiches
The Natural Café serves both vegetarian and non-vegetarian sandwiches. The "good karma burger" is made with a tempeh patty -- tempeh is a firm-textured soy food with a nutty flavor, and it's high in calcium and protein. The grilled eggplant sandwich is served on nine-grain bread with feta cheese, red peppers, pesto and sprouts -- the eggplant is a good source of fiber and potassium, and the feta has lots of protein and calcium, but also fat and sodium. You can also get a roasted turkey breast sandwich with tomato, red onion, lettuce and sprouts with Dijon mustard and garlic mayo. Turkey breast is a lean protein source; leave the mayo off this sandwich if you're watching your waistline.
References
Resources
Writer Bio
Melissa Sandoval began writing professionally in 1996, dabbling in fiction and writing for new media and magazines. She has published work in "mental_floss magazine" and on websites such as TLC Family and TLC Style. Sandoval has work published in English and Spanish, including online topics guides en Español. Sandoval has a Bachelor of Arts in psychology from Wittenberg University.
Photo Credits
Jack Hollingsworth/Photodisc/Getty Images