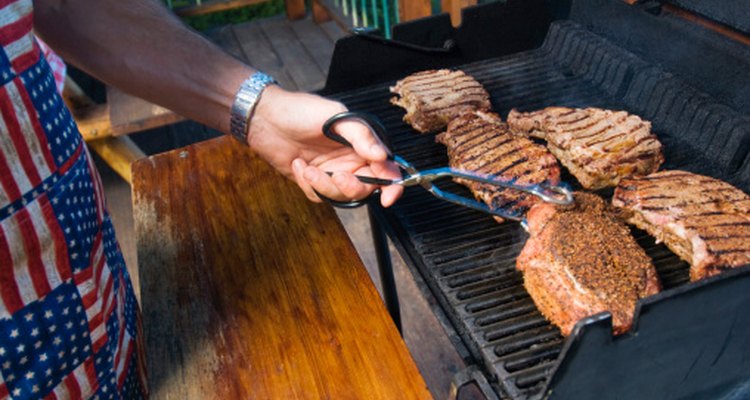 Creatas Images/Creatas/Getty Images
Logan's Roadhouse is a restaurant chain known for its relaxed atmosphere and hearty dishes. The Logan's Roadhouse website invites you to come in and enjoy an "ice-cold longneck" and one of its "great flame grilled steaks". While Logan's takes pride in its "Real American Meals," it also offers lighter options on its "Health Nuts" menu for those of you who might be looking to lose a few pounds or simply want to eat lighter.
Steaks
The Logan's Roadhouse 10-oz. sirloin steak offers 644 calories containing 54 g of protein and 46 g of fat. Sirloin steaks are a fatty cut with 414 of those calories coming from fat. The 46 g of fat contained in this steak is 71 percent of your daily allowance. It also has 63 percent of your daily cholesterol. The 6-oz. filet steak contains almost 400 fewer calories, offering 250 calories.
Mesquite Dishes
The menu at Logan's Roadhouse offers several mesquite dishes, including the Mesquite grilled chicken and grilled salmon. The Mesquite Chicken is an 8-oz. chicken breast serving that contains 288 calories with only 72 calories coming from fat. It provides 23 g of protein with just 8 g of fat. The 10-oz. salmon serving provides 400 calories of which 171 come from fat. Although it contains 19 g of fat, only 3 g is saturated. Salmon is high in protein and this serving offers 55 g, your entire daily allowance.
Side Dishes
The choices you make for your side dish can influence the nutritious value of your whole meal. A baked sweet potato will bring you necessary carbohydrates while only giving 33 calories with zero fat.
A serving of Logan's Roadhouse fries, on the other hand, contain 200 calories and about 7 g of fat, without seasoning or dressings. The buttery dinner rolls are also high in calories. A single roll contains 227 calories and 11 g of fat, and so even with a healthy meat choice, these sides can transform your meal into a high calorie option.
Salads
The Logan's Roadhouse "anything and everything salad" is a healthy dish although higher in calories than you might expect from a salad. It contains romaine lettuce, a hard-boiled egg, bacon, blue cheese, toasted walnuts, tomatoes, cranberries and mesquite wood-grilled chicken. It contains 680 calories, over half of which come from fat. It contains 68 g of protein as well as 33 percent of your daily fiber allowance. Lower calorie salads can be found on the "Health Nuts" menu.
Health Nuts Menu
The Health Nuts range is a menu containing meals that are all under 550 calories. It offers shrimp and vegetable skewers, grilled tilapia, pork chops and several other meat-based dishes. These low calorie entrees are based on sides of steamed broccoli and a "Health Nut" side salad. The low calorie choices also include four salads, grilled chicken, grilled salmon, grilled shrimp and veggie skewers, and the baked potato salad.
Writer Bio
Based in Alicante, Spain, Jordan Gibb began writing professionally in 2010, and his work appears on LIVESTRONG.COM. He is a professional golfer who has worked with experts in fitness and in all areas of golf. Gibb is a graduate of the University of North Florida where he gained a Bachelor of Arts in English while competing for the men's golf team.
Photo Credits
Creatas Images/Creatas/Getty Images