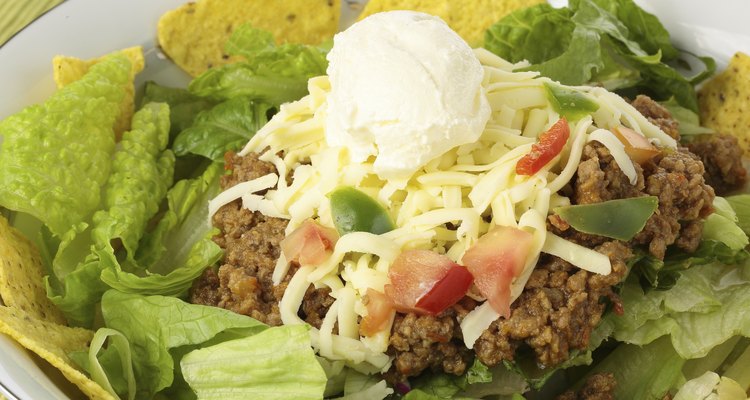 camacho9999/iStock/Getty Images
McDonald's is just one of the many successful fast food chains in America and even the world. The chain has expanded its menu to include choices for the health conscious, and the Southwest Salad is one example. McDonald's Southwest Salad comes with many toppings and options that can increase the calories and nutritional value of the meal.
Ingredients
McDonald's states that the Southwest Salad comes fully loaded with a Southern Style crispy chicken breast fillet, mixed lettuce, southwest vegetables, cilantro lime glaze, shredded cheddar-jack cheese, chili lime tortilla strips and a lime wedge. Any of these ingredients can be omitted or removed to accommodate the consumer and to reduce calories or specific nutrients, like carbohydrates.
Calories
The full 12.5 oz. salad touts a mere 430 calories according to McDonald's. Most of the calories come from the crispy chicken fillet, a 230-calorie ingredient in the Southwest Salad. The next highest ingredient is the cilantro lime glaze, a 50-calorie dressing that comes in a separate package so the consumer can control how much or how little is used. The rest of the ingredients come in below 45 calories each.
Fat
Fat is an important nutrient to monitor in any diet. Eating a high-fat diet can lead to cardiovascular problems and weight gain. The Southwest Salad has 20 total grams of fat with only four grams being the more unhealthy, saturated fat variety. The Southern Style chicken breast fillet is responsible for 13 g of the total fat and 2 g of the saturated fat found in the entire salad. The dressing and cheese each bring in around 2 g of fat. Overall, the fat content makes up about 30 percent of a the daily recommended amount for a 2,000-calorie diet according to McDonald's.
Sodium
Sodium is found in many foods but it can be particularly dangerous for individuals with blood pressure issues. MayoClinic.com warns consumers to watch for hidden sodium when dining out. The McDonald's Southwest Salad carries 38 percent of the total daily percentage of sodium with 920 mg. The chicken breast holds 670 of the total sodium content with the next highest item, the cilantro lime glaze, bringing 105 mg to the total salad.
Considerations
While McDonald's Southwest Salad with Crispy Chicken is a healthier choice than the restaurant chain's flagship sandwich, the Big Mac, the high sodium and crispy chicken breast fillet make it a potentially unhealthy meal choice for some individuals who are on restrictive diets, including low-fat or low-sodium diets.
Benefits
The Southwest Salad contains a relatively modest number of calories for a lunch or dinner selection. This can be a positive thing for individuals consuming a calorie restricted diet. Protein is an important part of all diets as it provides hunger satisfaction, can lead to fewer calories being consumed overall and MedlinePlus explains that it helps the body repair and make new cells.The salad contains 26 grams of protein.
Other beneficial nutrients and macro-nutrients found in the salad include dietary fiber, vitamin A, vitamin C, calcium and iron. The salad makes up 25 percent of an individual's daily recommended amount of dietary fiber with 6 g. Eating the salad will provide 130 percent of vitamin A, 50 percent of vitamin C and 15 percent of both calcium and iron according to McDonald's.
References
Writer Bio
Sarah Harding has written stacks of research articles dating back to 2000. She has consulted in various settings and taught courses focused on psychology. Her work has been published by ParentDish, Atkins and other clients. Harding holds a Master of Science in psychology from Capella University and is completing several certificates through the Childbirth and Postpartum Professional Association.
Photo Credits
camacho9999/iStock/Getty Images