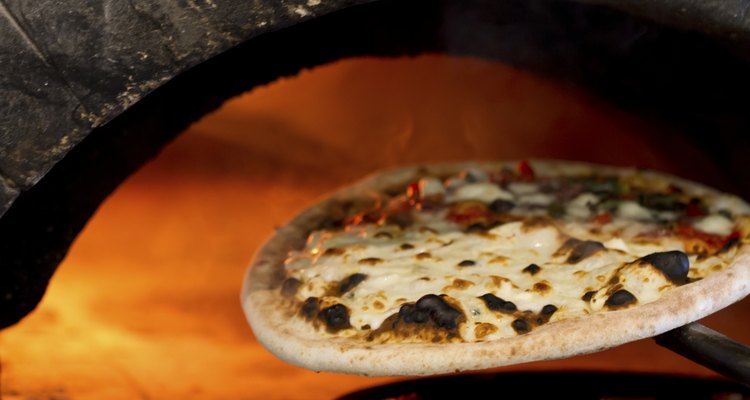 Jonathan Austin Daniels/iStock/Getty Images
Lou Malnati's is a Chicago area pizza chain that opened its first location in 1971, according to the restaurant's official website. As of 2010, Lou Malnati's has 31 locations in and around Chicago. In addition to serving pizza, Lou Malnati's offers salad, pasta, sandwiches and other items. Note that the nutrition information provide refers to small deep dish pizzas.
Cheese Pizza
The most basic pizza at Lou Malnati's is the cheese pizza, which is a deep dish pizza with tomato sauce and cheese. According to the official website for Lou Malnati's Pizzeria, each slice of cheese pizza contains 300 calories. These 4 oz. pieces contain 15 g of fat, 26 g of carbohydrates and 15 g of protein. In addition, each slice contains 7 g of saturated fat, 2 g of fiber and 2 g of sugar.
Pepperoni Pizza
Pepperoni pizza is a common variety found at many pizzerias, including Lou Malnati's. According to the restaurant's official website, one slice of pepperoni pizza offers 300 calories, with 17 g of fat, 20 g of carbohydrates and 16 g of protein. Of the fat, 8 g comes from saturated fat. According to the American Heart Association, saturated fat may increase your risk of heart disease, so you should limit intake to no more than 16 g daily.
Vegetarian Pizza
A lower calorie option at Lou Malnati's pizzeria is the vegetarian pizza, which is appropriate for those who do not consume meat. Lou Malnati's notes that each slice of vegetarian pizza provides 270 calories, with 13 g of fat, 23 g of carbohydrates and 15 g of protein. This slice has 6 g of saturated fat, 3 g of sugar and 3 g of fiber. The Mayo Clinic notes that a high-fiber diet aids in digestion and may help reduce your cholesterol levels.
Crustless Sausage Pizza
Despite containing sausage, an ingredient high in fat and calories, the crustless sausage pizza is the lowest in calories per slice, according to Lou Malnati's website. Each slice contains 210 calories, with 14 g of fat, 3 g of carbohydrates and 18 g of protein. This pizza contains 2 g of fiber and 1 g of sugar per slice. The low carbohydrate content may make it appropriate for low carbohydrate diets.
Malnati Salad
The lowest calorie menu choice with nutrition information is the Malnati Salad. According to the pizzeria's menu, this salad contains lettuce, salami, sliced mushrooms, black olives, tomatoes and gorgonzola cheese. Each salad contains 160 calories, with 12 g of fat, 6 g of carbohydrates and 12 g of protein, according to Malnati's. The salad contains 7 g of saturated fat, 2 g of fiber and 5 g of sugar.
References
Writer Bio
Brian Willett began writing in 2005. He has been published in the "Buffalo News," the "Daytona Times" and "Natural Muscle Magazine." Willett also writes for Bloginity.com and Bodybuilding.com. He is an American Council on Exercise-certified personal trainer and earned a Bachelor of Arts in journalism from the University of North Carolina.
Photo Credits
Jonathan Austin Daniels/iStock/Getty Images