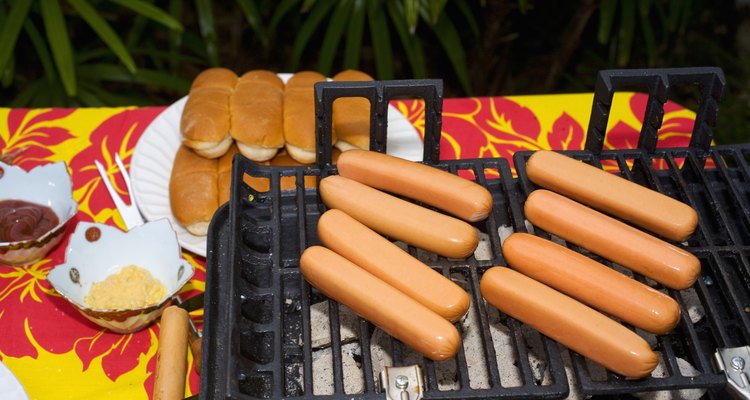 Design Pics/Tomas del Amo/Design Pics/Getty Images
The Portillo Restaurant Group operates several restaurant food chains, including Portillo's and Barnelli's. Portillo's Hot Dogs started in 1963 when Dick Portillo sold hot dogs from a small trailer, but eventually expanded into 48 units in Illinois and two other states as of 2010. Barnelli's Pasta Bowl, with restaurants in Illinois and Indiana, focuses on Italian-inspired dishes, and both restaurants features menu choices made from specific ingredients.
Types
Both Portillo's and Barnelli's have featured menu items consisting of hot dogs and pasta bowls, respectively. Additional menu choices are individual to each restaurant. Portillo's offers a variety of hot dogs, beef-sausage sandwiches, hamburgers and salads. Barnelli's starts with pasta bowls and also offers salads, ribs and pizzas.
Features
The menu at Portillo's and Barnelli's starts with main entrees followed with the option to order side dishes. Side dishes at Portillo's include traditional choices such as french fries, cheese fries, onion rings and chicken tenders. Barnelli's offers a variety of Italian-style side dishes including garlic bread, meatballs, baked potatoes, hot peppers and coleslaw.
Size
Serving size and ingredients are the main factors for caloric content at Portillo's and Barnelli's. For example, the small french fry side dish contains 354 calories, while the regular order of the cheese fries contains 1,000 calories. The hot dogs at Portillo's contain 300 and 350 calories for the regular and jumbo hot dogs, respectively. Similarly, the Asian chicken salad and chicken pecan salad from Barnelli's contain 346 calories and 695 calories, respectively. The difference in calories comes primarily from their different ingredients. The Asian chicken salad contains romaine lettuce topped with vegetables and sesame ginger dressing while the chicken pecan salad is made with lettuce, chicken, bacon, cheese, pecans and honey Dijon dressing.
Identification
To properly identify the menu items with reduced caloric content, look for ingredients that contribute additional carbohydrates, fat or protein. For example, the addition of the bacon, cheese and pecans to the chicken pecan salad from Barnelli's contributes a total of 54 g of fat per serving. Likewise, the addition of cheese on the cheese fries makes one serving total 115 g of carbohydrates instead of the 51 g of carbohydrates in the small french fries.
Considerations
Portillo's and Barnelli's menus offer enough variety and choices to choose meals with low amounts of calories, fat, carbohydrates and protein. Order sauces and dressings on the side for salads and cheese fries and avoid additional side dishes that contribute significant calories, such as meatballs or onion rings.
References
Resources
Writer Bio
Based in Nebraska, Jeremy Hoefs began writing fitness, nutrition, outdoor and hunting articles in 2006. His articles have been published in "Star City Sports," "Hunting Fitness Magazine" and RutWear field journals, as well as on the Western Whitetail website. Hoefs graduated with a Bachelor of Science in exercise science from Nebraska Wesleyan University.
Photo Credits
Design Pics/Tomas del Amo/Design Pics/Getty Images