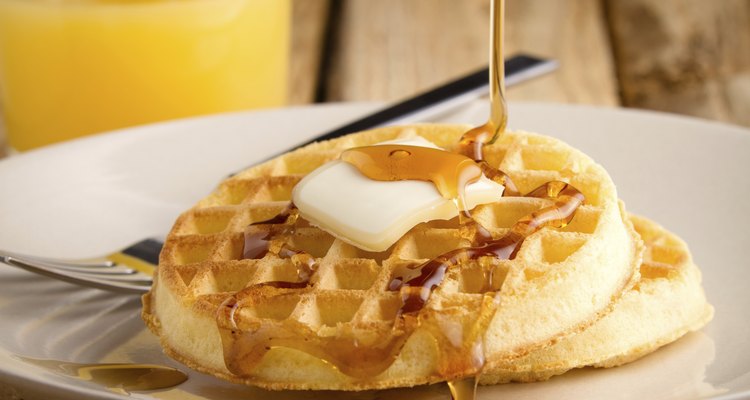 RonOrmanJr/iStock/Getty Images
With a mission to provide a distinctive dining experience by offering great food and friendly service at an excellent price, Waffle House has grown into a restaurant chain with 1,600 locations spread across 25 states. Started by Tom Forkner and Joe Rogers in 1955, Waffle House specializes in waffles and other breakfast items, but the restaurants also serve salads, wraps, steaks and pork chops. Because of the varied menu, each dish has its own nutritional profile.
Types
Waffles are the focal point on the Waffle House menu, ranging from the classic buttermilk waffle to waffles made with pecans and chocolate chips. All the Waffle House locations combined serve approximately 159 waffles per minute, according to the company's website. Other menu items include eggs and omelets, biscuits and gravy, breakfast sandwiches, bacon or sausage, hamburgers and a value menu. Breakfast items are served all day.
Calories
The classic buttermilk waffle contains 314 calories with 112 calories from fat and the chocolate chip waffle contains 384 calories.Using 1/4 cup of sugar-free syrup for the waffles will add 35 calories. The two eggs, hash browns and buttered toast has 770 calories, with the hash browns contributing 409 calories. The three scrambled eggs, grits and toast, has 610 calories, with the grits making 200 of those calories.
Carbohydrates, Protein and Fat
Most of the breakfast menu options at Waffle House contain significant amounts of fat and carbohydrates. Waffles, for example, contain 12g of total fat and 45g of total carbohydrates with only 6g of protein. Ordering eggs, sausage, bacon or ham is the best option for adding protein to your meal. The three scrambled eggs, grits and toast contains a balance of fat, carbohydrates and protein with 16g of total fat, 53g of total carbohydrates and 34g of protein.
Reducing Cholesterol
With large portions cooked in oil and butter, some of the menu options can contain significant amounts of calories, cholesterol, sugar or sodium. The three scrambled eggs dish, for example, contains 720mg of cholesterol for 240 percent of the daily recommended intake while the two eggs, hash browns and toast contains 40 percent less cholesterol with only 445mg.
Healthier Choices
Waffle House offers two specialty sections on the menu designed for value and lighter choices. The Dollar Menu contains a variety of breakfast, lunch and dinner options for $1, such as a cheese omelet, sausage biscuit, grilled chicken sandwich or double 1/4 lb. cheeseburger. The Lighter Choices menu offers foods that are smaller portions or contain fewer calories. Some of the choices include the chicken biscuit, grilled chicken and eggs, chef's salad and grilled chicken dinner.
References
Writer Bio
Based in Nebraska, Jeremy Hoefs began writing fitness, nutrition, outdoor and hunting articles in 2006. His articles have been published in "Star City Sports," "Hunting Fitness Magazine" and RutWear field journals, as well as on the Western Whitetail website. Hoefs graduated with a Bachelor of Science in exercise science from Nebraska Wesleyan University.
Photo Credits
RonOrmanJr/iStock/Getty Images