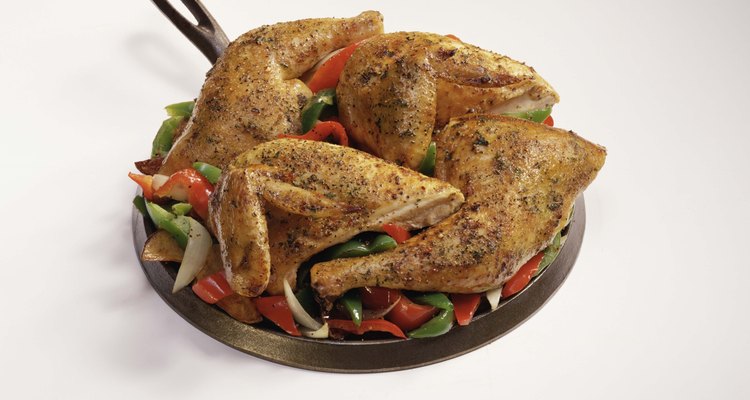 Jupiterimages/Comstock/Getty Images
Nelson's is a barbecue restaurant that originated in 1967 in Indiana when a manager of a poultry-processing plant opened a restaurant designed to cook large quantities of chicken pieces while maintaining home-cooked quality. Nelson's is most famous for its "Port-a-Pit" chicken, which has a savory barbecue-like glaze. Nelson's does not offer the recipe to the public, but you can recreate that same smoky and tangy flavor at home with a few simple ingredients.
Preheat the oven to 325 degrees F.
Combine 1 lb. of butter or margarine, 1 cup of water, 1 cup of cider vinegar, 1/2 cup of Worcestershire sauce and three minced garlic cloves to a saucepan. Add salt and hot sauce to taste, if you are using them, and heat the ingredients over medium-high heat.
Simmer the ingredients, stirring constantly, until the butter is melted and the ingredients are well-combined.
Place the pieces from two cut-up chickens on the wire rack in a roasting pan. Pour approximately 2 cups of the sauce over the chicken.
Cover the roasting pan and place it in the oven. Roast the chicken for 35 to 40 minutes.
Take the chicken out of the oven and baste the pieces with the remaining 1 cup of sauce. Replace the cover and roast the chicken for 15 more minutes.
Take the chicken out of the oven and insert an instant-read thermometer into a meaty piece of chicken. Avoid touching the bone with the thermometer or you may affect the reading. When the chicken is ready, it should register 165 degrees F.
References
Tips
Enjoy your Port-a-Pit chicken sparingly. According to the Nelson's website, one serving contains approximately 240 calories and 14 g of fat.
Writer Bio
Natalie Smith is a technical writing professor specializing in medical writing localization and food writing. Her work has been published in technical journals, on several prominent cooking and nutrition websites, as well as books and conference proceedings. Smith has won two international research awards for her scholarship in intercultural medical writing, and holds a PhD in technical communication and rhetoric.
Photo Credits
Jupiterimages/Comstock/Getty Images