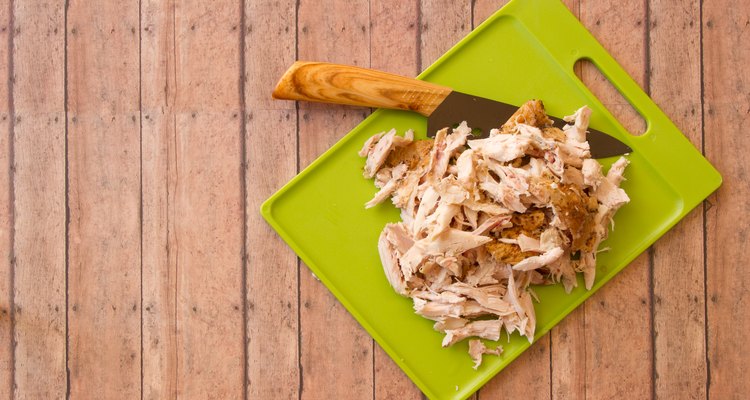 RondaKimbrow/iStock/GettyImages
Crock-Pot classics: Shredded chicken
Crock-Pots were made for foods like shredded chicken, and shredded chicken is perfect for dishes like burritos, barbecue, tacos, pizza, chili, fajitas, carnitas, pot pies, casseroles – if you can dream it, shredded chicken can be it. For the ultimate in poultry perfection, use chicken thighs or a mixture of thighs and breasts. Chicken breasts don't come close to the luscious mouthfeel and rich taste of thighs, despite having comparable nutrition profiles: 3 ounces of skinless chicken thighs have just 28 more calories than 3 ounces of breast meat. And best of all, you only need two ingredients – a cooking liquid and the chicken.
Total Time: 2 hours | Prep Time: 15 minutes | Serves: 4 to 6
Kosher salt (optional)

4 tablespoons vegetable oil (optional)

4 pounds boneless, skinless chicken thighs, breasts or a combination of both
2 cups of chicken stock or water, seasoned to taste

Season the chicken with kosher salt if desired. Heat the oil in a skillet over medium-high heat on the stove, and sear the chicken until golden brown. You can skip this step, but it creates a richer, more complex flavor.

Bring the stock to a simmer on the stove. Transfer the chicken to the Crock-Pot, and pour the stock over it. If you want to add spices, do so now.

Cover the Crock-Pot, and set it to high if you want the chicken ready in 2 hours; set it to low if you want it ready in 4 hours. The chicken is finished when it has an internal temperature of 165F.

Transfer the chicken to a carving board. Shred the chicken with two forks. Store leftovers up to 4 days in the refrigerator and up to a year in the freezer.
References
Writer Bio
A.J. Andrews' work has appeared in Food and Wine, Fricote and "BBC Good Food." He lives in Europe where he bakes with wild yeast, milks goats for cheese and prepares for the Court of Master Sommeliers level II exam. Andrews received formal training at Le Cordon Bleu.