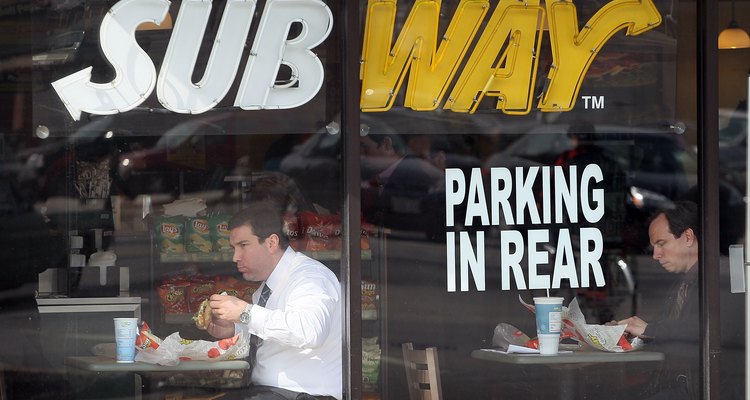 Scott Olson/Getty Images News/Getty Images
Subway restaurant offers sandwiches to accommodate every taste and diet with nearly 2 million possibilities, based on customer requests. Over the years low calorie options were made available and now include more than a dozen sandwich choices.
Low-Fat Sandwiches
Subway offers eight low-fat, foot-long sandwich choices containing an average of 608 calories. Subway also offers eight low-fat, 6-inch subs that contain 6 grams of fat, or less, per sandwich. The calorie content ranges from 230 calories for the 6-inch Veggie Delight to 380 for the 6-inch Sweet Onion Chicken Teriyaki.
Regular Sandwiches
The highest-calorie regular sandwiches offered are the 580-calorie 6-inch Meatball Marinara or the foot-long Sweet Onion Chicken Teriyaki, which has 760 calories. The lowest in calories are the 6-inch BLT at 360 and the foot-long Veggie Delight with 460. Subway's mini-subs and flat bread sandwiches have a calorie content ranging from 150 to 390 calories.
Most Popular Sandwiches
According to Subway, the most popular 6-inch sandwiches are the Turkey Breast with 280 calories, the Italian BMT with 450 calories and the Subway Club with 320 calories. Toasted favorites are the Chicken and Bacon Ranch with 570 calories and the Subway Melt with 380 calories.
References
Resources
Writer Bio
Haylee Foster has been writing health and fitness articles since 1999. She received prenatal fitness certification from Desert Southwest Fitness in 2001 and has also given presentations on women's and children's health and prenatal fitness. She has a Bachelor of Science in lifestyle management with an emphasis in fitness and nutrition from Weber State University.
Photo Credits
Scott Olson/Getty Images News/Getty Images