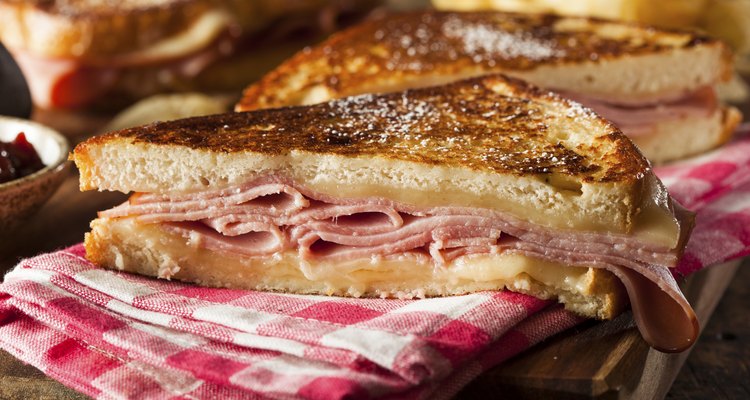 bhofack2/iStock/Getty Images
Calorie counters should avoid the Monte Cristo sandwich. Thanks to being fried in butter, Monte Cristo sandwiches deliver big taste along with high calories and lots of fat.
Identification of a Monte Cristo
A basic Monte Cristo sandwich features turkey or chicken, ham and a slice of cheese between two slices of white bread. The entire sandwich is dipped in beaten egg and then deep fried in butter. Some cooks even top the sandwich with powdered sugar and serve it with a side of jelly for dipping.
Calories in a Monte Cristo
While calories may vary according to restaurant and the amount of ingredients used to make the sandwich, a typical Monte Cristo contains more than 1,000 calories. SkinnyKitchen.com states an average Monte Cristo has 1,122 calories.
Nutrition in a Monte Cristo
A typical, full-fat Monte Cristo sandwich provides 69 grams of fat, 2,138 milligrams of sodium, 56 grams of carbohydrates and 67 grams of protein, according to SkinnyKitchen.com. These counts will vary depending upon type of bread, cheese and meat used.
References
Writer Bio
William Lynch has been a freelance writer for the past fifteen years, working for various web sites and publications. He is currently enrolled in a Master of Arts program in writing popular fiction at Seton Hill University. He hopes to one day become a mystery novelist.
Photo Credits
bhofack2/iStock/Getty Images