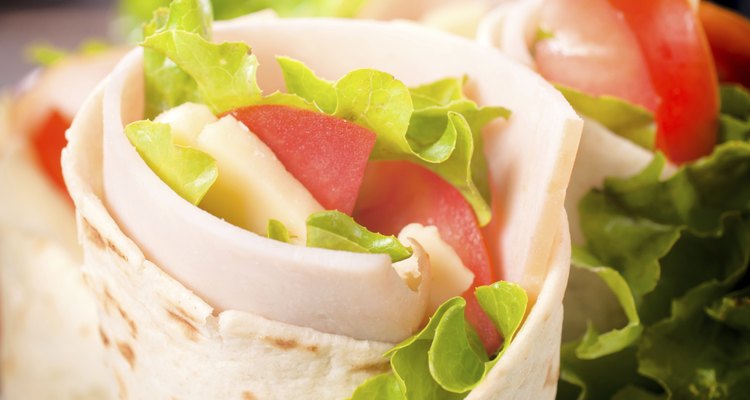 badmanproduction/iStock/Getty Images
Turkey and cheese wraps can easily be made at home, purchased at the grocery store or ordered in a deli. The calories in a turkey and cheese wrap will vary depending on the serving size, the type of cheese and the condiments, such as mayo or mustard.
Calories
A recipe for a turkey and cheese wrap that includes a whole wheat wrap -- or tortilla -- turkey, muenster cheese, spinach, carrot, cucumber, red pepper, 1/2 slice bacon and honey mustard contains 345 calories, according to CookEatShare.com. Skip the bacon and you'll save about 25 calories.
Considerations
At Subway, the wraps and the flatbreads contain the same amount of calories. A turkey breast on flatbread is 300 calories. The cheese will add an additional 40 to 60 calories, depending on the type of cheese. The Turkey and Cheese Kidwich at Jason's Deli contains 239 calories. Trader Joe's turkey, spinach and cheese wrap contains 390 calories.
Warning
Watch out for the turkey wrap at Costco, which contains 810 calories -- 58 percent from fat and 16 grams of saturated fat. It also has 2,570 milligrams of sodium and .5 grams of trans fats.
References
Writer Bio
Becky Miller, an ACE-certified personal trainer, has designed strength training programs for people of all ages and fitness levels since 2001. She specializes in empowering women of the baby-boomer generation. Her writing career began in 2004, authoring weekly fitness columns and feature articles for the "Navarre Press" in Florida. She earned her B.S. in business from the University of Colorado.
Photo Credits
badmanproduction/iStock/Getty Images