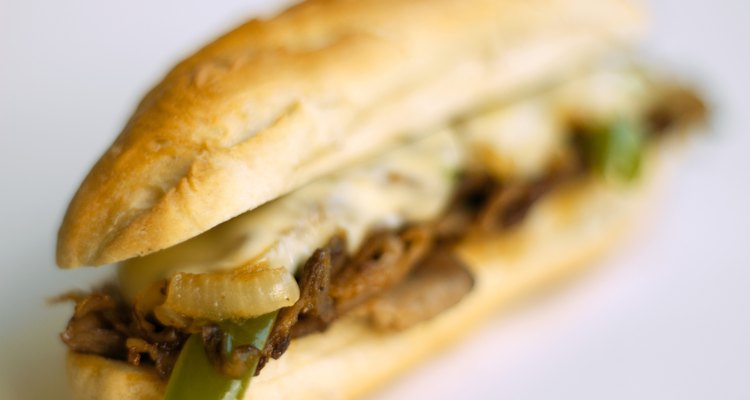 Ciaran Griffin/Stockbyte/Getty Images
The Philly cheesesteak sandwich usually consists of thinly sliced beef in an Italian roll topped with onions, peppers and cheese. Sometimes these sandwiches have mushrooms as well, and the type of bread and cheese can also vary depending on the recipe used. All this affects the number of calories in your sandwich.
Calorie Comparisons
The calories in this sandwich can vary. A quick and easy Philly cheesesteak sandwich made with 2 ounces of deli roast beef, an ounce of provolone cheese, peppers, onions and a hero-style roll has about 620 calories. A Philly cheesesteak made with 1/3 pound of extra-lean beef tenderloin, an ounce of part-skim mozzarella cheese, onions, bell peppers and an Italian roll contains about 530 calories. Using a slice of country loaf bread, an ounce of fontina or provolone cheese, 4 1/2 ounces of New York strip steak, cherry tomatoes, onions and mushrooms instead will give you an open-faced sandwich containing about 490 calories. A healthier sandwich on a whole-wheat bun containing 1/4 pound of sirloin steak, 3/4 ounce of reduced-fat provolone cheese, peppers, onions and mushrooms has 440 calories.
References
The Oxford Encyclopedia of Food and Drink in America; Andrew F. Smith, Editor in Chief
Writer Bio
Based in Massachusetts, Jessica Bruso has been writing since 2008. She holds a master of science degree in food policy and applied nutrition and a bachelor of arts degree in international relations, both from Tufts University.
Photo Credits
Ciaran Griffin/Stockbyte/Getty Images