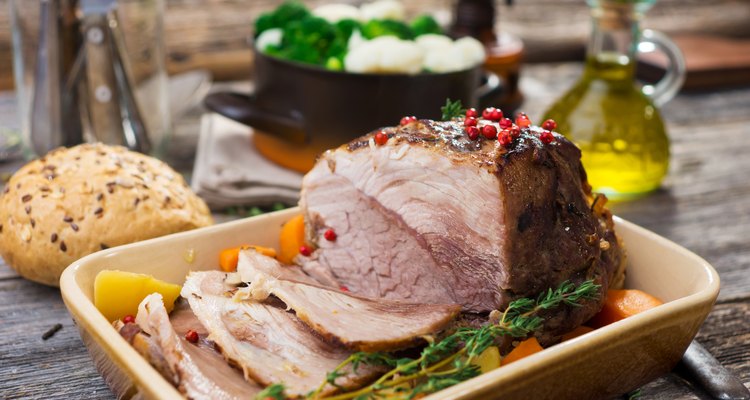 zeleno/iStock/GettyImages
Pork Roast Leftovers as Good as the Original
Whether you slice, dice, chop or mince, you have lots of options for leftover pork roast. The easiest way to use the leftovers is simply to toss them into anything you are making on a busy weeknight evening, from scrambled eggs to soup to salads. This recipe for Mexican-inspired sub sandwiches is almost as easy as it gets. Smooth, flavorful cheese, crispy bell peppers and earthy cilantro leaves add a mix of textures and temperatures to the pork and transform leftovers into a delectable and quick meal.
Use either plain Monterey Jack cheese for the subs or a more spicy Jack and peppers if your family can take the heat. Slice the pork as thinly as you can, using a large, sharp knife or cleaver, to make eating easier.
Total Time: 25 | Prep Time: 10 minutes | Serves: 4
4 crusty oblong rolls
4 tablespoons butter
2 cups Monterey Jack cheese, grated
2 cups cooked pork, thinly sliced
1 cup red bell peppers, thinly sliced
4 tablespoons canned green chilies, diced
4 tablespoons cilantro, whole leaves
Turn on your oven broiler to high.
Slice the rolls in half lengthwise, and butter each half. Place the rolls on a baking sheet, and toast them in the oven until the butter melts and the bread turns slightly golden brown, 1 to 2 minutes.

Remove the rolls and set the top halves aside. Top each bottom half with 1/2 cup pork and

1/2 cup cheese. 4. Place the baking sheet back under the broiler until the cheese melts, 1 to 2 minutes. 5. Remove the baking sheet from the oven and top each roll with 1/4 cup bell peppers, 1 tablespoon chilies and 1 tablespoon cilantro leaves.
6. Replace the top half of the rolls and serve the subs.
References
Writer Bio
Susan Lundman began writing about her love of cooking, ingredient choices, menu planning and healthy eating after working for 20 years on children's issues at a nonprofit organization. She has written about food online professionally for ten years on numerous websites, and has provided family and friends with homemade recipes and stories about culinary adventures. Lundman received her M.A. from Stanford University.