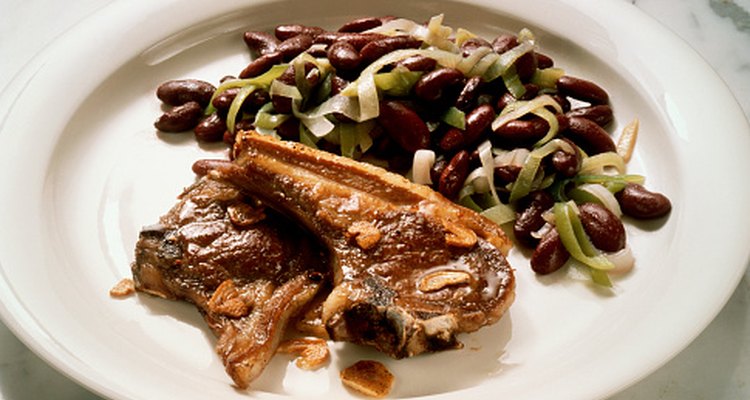 Eising/Photodisc/Getty Images
Create a hearty meal for your family and friends by cooking a few lamb chops. Season your lamb chops with aromatic ingredients such as minced garlic, rosemary leaves, dried chili peppers and freshly peeled ginger root. Use a simple recipe to avoid unnecessary prep time. Make sure to cook the lamb chops thoroughly to destroy any bacteria housed within the meat. Use a grill and an oven to quickly cook the lamb chops.
Rub down the lamb chops with some extra-virgin olive oil, minced garlic and a dash of finely chopped rosemary. Sprinkle the chops with salt and ground black pepper. Cut a lemon in half using a kitchen knife.
Squeeze half the lemon over the lamb chops. Ignite your charcoal or turn your gas grill to a medium high heat. Place your marinated lamb chops on the grill.
Allow the lamb chops to cook for 4 minutes. Flip the lamb chops with a pair of tongs to avoid puncturing the meat. Allow the chops to cook for another four minutes.
Preheat your oven to 400 degrees Fahrenheit. Place the seared lamb chops onto a non-stick baking sheet. Allow the lamb chops to finish cooking in the oven for five minutes.
References
Writer Bio
Philip Foster has been writing professionally since 2010. His work has been featured in the literary-arts magazine "The PEEL" and the weekly newspaper "The Mountain Xpress." Foster is an expert in various extreme sports. He cooked in a restaurant that offered organic and vegetarian cuisine for over three years. Foster received a Bachelor of Arts in creative writing from Appalachian State University.
Photo Credits
Eising/Photodisc/Getty Images