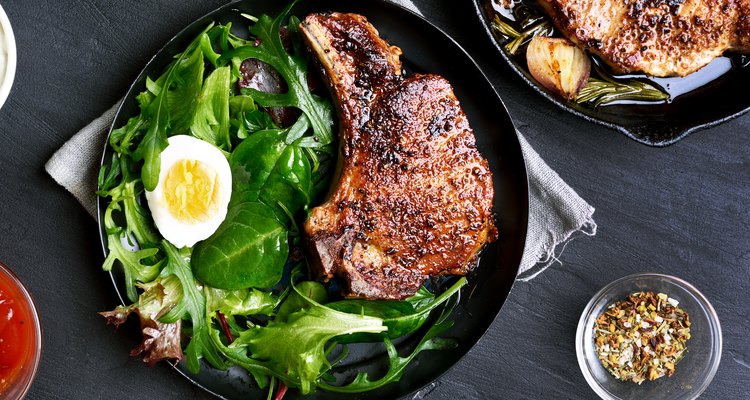 Tatiana Volgutova/iStock/GettyImages
A Marinade That's Suitable for All Day, Any Day
Most marinades include both oil and an acidic ingredient, which help transfer flavors from the seasonings and—in the case of the acidic ingredient—to land a tangy flavor of its own. That's fine for a quick marinade, but if you plan to leave your pork chops in the marinade all day, so they're ready to cook when you get home, acidity can ruin the texture of your pork. This easy pork chop marinade packs plenty of taste but little acidity, so your chops can take their time and soak up the flavors.
Total Time: 5 minutes | Prep Time: 5 minutes | Serves: 4
1/2 cup soy sauce

1/4 cup Worcestershire sauce

1/4 cup brown sugar, tightly packed
2 tablespoons vegetable oil
1 tablespoon Dijon mustard

1/2 teaspoon granulated garlic

1/2 teaspoon onion powder

1/4 teaspoon fresh-ground pepper

In a mixing bowl or large measuring cup, combine all ingredients and whisk until they're well blended.

Pour the marinade into a large, zipper-seal freezer bag. Add four large pork chops or medium-sized pork steaks, then carefully squeeze out as much air as possible and seal the bag. Massage the bag gently, moving the chops around with your fingers, until you're confident all surfaces of the pork have been exposed to the marinade.

Place the bag in a shallow pan, to catch the marinade if any should leak, and refrigerate for 1 to 8 hours. When you're ready to cook the chops, remove them from the marinade and allow any excess to drain. Discard the marinade, and broil or grill the chops.

References
Writer Bio
Fred Decker is a trained chef and prolific freelance writer. In previous careers, he sold insurance and mutual funds, and was a longtime retailer. He was educated at Memorial University of Newfoundland and the Northern Alberta Institute of Technology. His articles have appeared on numerous home and garden sites including GoneOutdoors, TheNest and eHow.