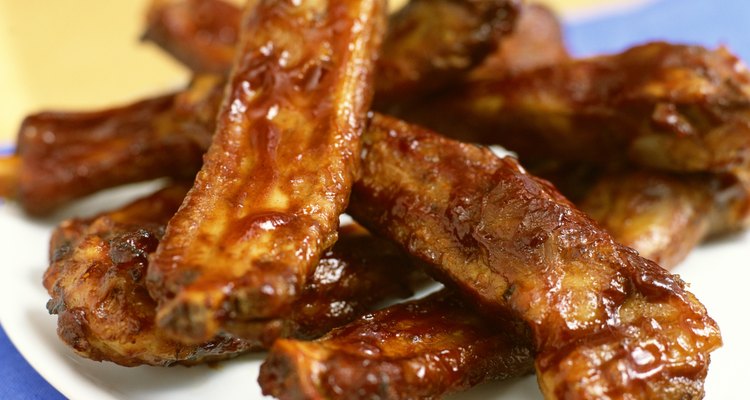 ITStock Free/Polka Dot/Getty Images
Fork-tender ribs are often cooked over low heat, which makes the cooking process lengthy. But by choosing the right kind of ribs and marinating them, you'll get a fork-tender meal every time. The longer you leave the ribs in the refrigerator to marinate, the more tender they'll be and the less cooking time you'll need. Fork-tender ribs make an ideal entrée when accompanied by side dishes such as corn and baked potatoes; they can also be served as finger food.
Trim the excess fat off the ribs. Peel off the membrane.
Rub cider vinegar over each side of the ribs. The vinegar helps open the pores of the meat.
Mix the brown sugar, paprika, salt, pepper and garlic powder in a bowl. Rub half of it over each side of the ribs.
Put the ribs in the fridge overnight. It will make them tender and ready for quick cooking.
Add vegetable oil and water to a pan. Preheat the frying pan to medium-high heat.
Add the ribs and cook covered for 8 minutes on each side. Brush the ribs with barbecue sauce occasionally as they're cooking.
References
Tips
Boiling the ribs first gets rid of much of the fat.
Place the grill approximately 4 to 5 inches from the coals or wood.
Cut the ribs up into smaller portions of two ribs after the spice rub has been applied and the ribs have cooled.
Recycle the bones and put them with your compost.
Prepare plenty of warm guest towels.
Warnings
Boiling the ribs for too long will render them too tender and the meat will fall off the bone through the grill.
Use BBQ sauce that doesn't not contain high fructose corn syrup. Read the labels.
Science has determined that eating meats that have become black and charred may lead to cancer.
Eat in moderation.
Writer Bio
Sheri Lamb has been a reporter since 2006 in community newspapers throughout Canada. While she has covered virtually every beat associated with community newspapers, Lamb specializes in sports. In addition to her skills as a reporter, Lamb holds a certificate in computer programming. She also runs a small catering company.
Photo Credits
ITStock Free/Polka Dot/Getty Images