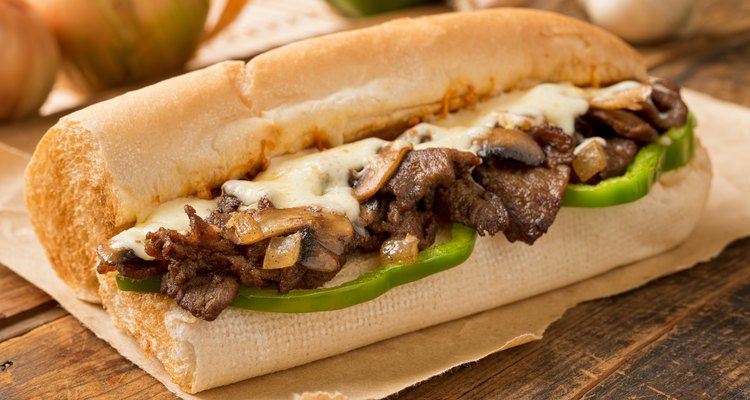 You Don't Have to Live in Philly to Enjoy a Perfect Cheesesteak
The cheesesteak is a Philadelphia institution – some might even call it a cultural icon. The concept was born back in the 1930s when Pat Olivieri, a hot dog vender in South Philly, grilled some beef and tossed it onto a firm Italian roll. That original sandwich has evolved over the years, and to say that it's beloved among Philadelphians is probably something of an understatement.
If you happen to live in or near Philly, and you're tired after work but the kids are hungry right now, you already know that you can pick up your phone and call your friendly neighborhood "sub shop" to have some cheesesteaks delivered ASAP. But don't give up just because you're not local. You can make authentic Philly cheesesteaks with a minimum of fuss.
Total Time: 25 minutes / Prep Time: 5 minutes / Serves: 6 Sandwiches
1 tablespoon olive oil


1 1/2

green and/or sweet red peppers, sliced into thin strips
* 1 1/2

cups sliced mushrooms
1 large onion, sliced
1 pound thinly sliced rib eye steak
Salt and pepper to taste
12 slices of Provolone, moderately thick, and/or one 15-ounce jar of Cheez Whiz
6 Italian hoagie rolls, sliced
Mayonnaise (optional)
Heat the olive oil in a large heavy skillet over medium high heat until it shimmers. Add the vegetables and cook until tender, about 8 to 10 minutes.

Transfer the vegetables to a bowl and set aside or – if you want to do it the Philly way – just push them to one side of the skillet so they're away from direct heat.

Add the sliced steak in one layer, in batches if necessary. Sprinkle with salt and pepper to taste and cook for about 1 1/2 minutes per side.

Reduce the heat to low. Spoon a portion of the vegetables over each steak slice, then top each with two slices of cheese or 1 to 2 tablespoons of Cheese Whiz to taste.

Cover the skillet tightly and cook over low heat until the cheese has thoroughly melted, about 3 to 4 minutes.

Using a spatula, transfer each steak to a hoagie roll and serve immediately.

References
Writer Bio
Beverly Bird is a professional writer who is also a practicing paralegal in the areas of divorce and family law. She has offered community workshops for single parents, helping them with the financial and lifestyle issues they often face.