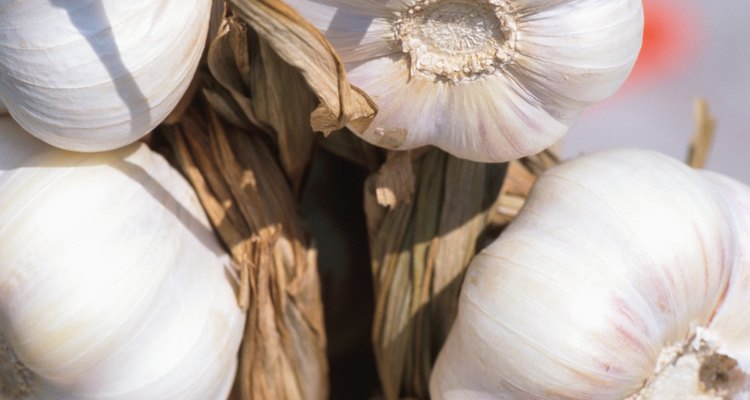 Hemera Technologies/Photos.com/Getty Images
You may think of garlic bread only as an accompaniment for your favorite pasta meal, but it can be much more. Add toppings to the bread to anchor a main dish, or serve an herbal, light bread to complement a salad. Whether you make garlic bread from scratch or buy deli or frozen bread that's ready to heat and eat, this staple food item can play a creative role in the meals you prepare for your family.
Pasta
Any type of pasta topped with marinara sauce is a candidate for a side dish of garlic bread. The tubular shape of penne pasta helps each piece hold more sauce, and it's easy for children to eat penne using either a spoon or a fork. Serve spicy Italian sausage with the pasta, add a tossed salad and creamy Parmesan dressing for a quick weeknight meal. Use frozen, prepared garlic bread, and top the slices with shredded mozzarella cheese before popping them into the oven. As soon as the cheese is bubbly, it's ready to eat.
Salad
Serve a main dish salad accompanied by toasty-warm garlic bread. Mix fresh spinach leaves with wafer-thin slices of red onions, hard-boiled egg slices, sunflower kernels and feta cheese crumbles. Top the salad with cold grilled chicken strips for a filling, low-calorie meal. You can also cut leftover garlic bread into cubes and toast them to make croutons.
Quiche
Dress up plain refrigerator pie crust or prepared pie crust mix by brushing it with a light coating of olive oil and dusting it with garlic powder to give it the essence of garlic bread. Mix a basic egg custard filling for a quiche, and add slightly steamed broccoli florets, some ham morsels, shredded cheese and crushed garlic. The garlic-flavored crust adds a layer of zest that will intensify the flavors of your quiche.
Grilled
Awaken a light meal of steak or chicken from the grill by including savory garlic and herb bread. Make the bread right on the grill. Slice a deli loaf into thick pieces, and brush both sides of each slice with olive oil. Sprinkle dried seasoning mix on the oiled sides, then grill them slightly -- just until they are toasted. Add steamed vegetables and a light dessert of frozen yogurt with fresh fruit to complete the meal.
References
Writer Bio
Fern Fischer's print and online work has appeared in publications such as Midwest Gardening, Dolls, Workbasket, Quilts for Today and Cooking Fresh. With a broader focus on organic gardening, health, rural lifestyle, home and family articles, she specializes in topics involving antique and modern quilting, sewing and needlework techniques.
Photo Credits
Hemera Technologies/Photos.com/Getty Images