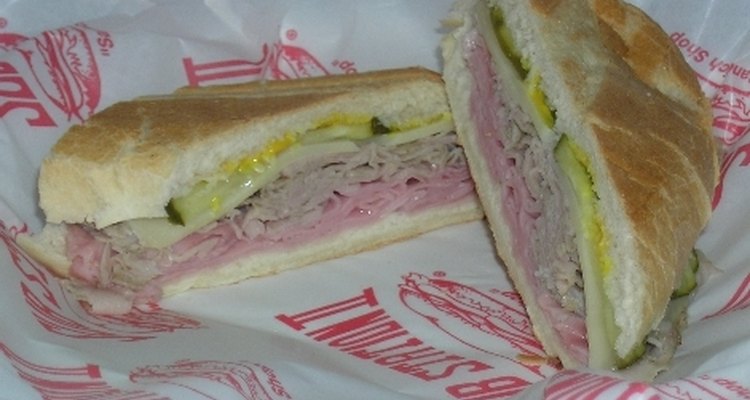 This file is licensed under Creative Commons Attribution 1.0 License
Cuban sandwiches, also known as Cubano, were introduced to the US at the turn of the last century by Cuban immigrants. It starts with a loaf of bread, and the basic ingredients; roasted pork, ham, pickles and swiss cheese. It has been said that there are as many recipes for the perfect Cuban sandwich as there are Cuban chefs. Many an argument has been waged over the finer points of how to make one just right.
Cut the loaf of bread in half, into 6 inch sections. Slice each section in half lengthwise. Spread butter on one half of the loaf, and mustard on the other half.
Layer the pork, ham and Swiss cheese along the length of each mustard half of the bread. Layer on the pickles. Top the layers off with the buttered half of the bread. Lightly butter the crust.
Lightly coat your pre-heated cooking surface with butter or some cooking spray. Place one of your sandwiches between the plates, squeezing the two halves tightly together. The sandwich will be squeezed to about a third of its original size.
Toast the sandwich until the cheese melts, and the meats and pickles have warmed up in their own steam. The bread should toast to a light, golden brown.
Slice the bread diagonally into smaller sections and serve at once. Cuban sandwiches can be eaten cold, but ideally, should be served "hot pressed."
References
Writer Bio
This article was written by the CareerTrend team, copy edited and fact checked through a multi-point auditing system, in efforts to ensure our readers only receive the best information. To submit your questions or ideas, or to simply learn more about CareerTrend, contact us [here](http://careertrend.com/about-us).
Photo Credits
This file is licensed under Creative Commons Attribution 1.0 License