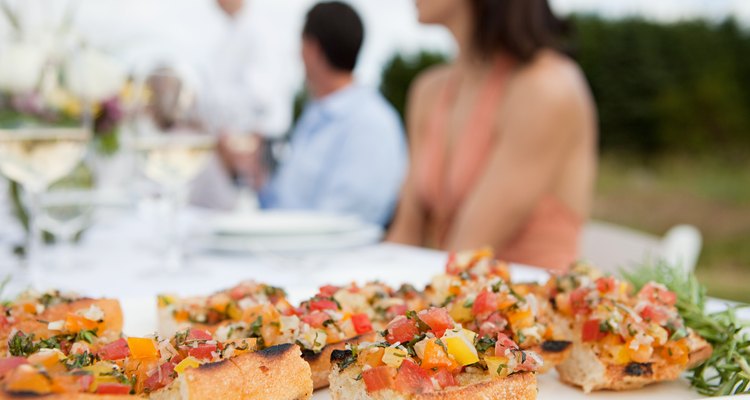 Image Source/Digital Vision/Getty Images
Fresh mozzarella, with its creamy texture and mild flavor, pairs beautifully with ciabatta bread to make everything from appetizers to salads to main dishes. You can't go wrong with classic tomato-based combinations, but don't be afraid to mix it up. Many other vegetables, as well as meats, work in recipes containing these two ingredients.
The Appetizer
Ciabatta bread teams up with fresh mozzarella, sliced tomatoes, basil and garlic for a delicious bruschetta appetizer, which can double for a light main course dinner. To make bruschetta, first make your topping, which can include almost any savory ingredient you like. Start with the classic bruschetta, which combines diced tomatoes, chopped basil and garlic in an olive oil sauce. Later, you can vary the ingredients to include dried tomatoes, chopped olives, capers, pine nuts or even raisins. Season well with salt and pepper. Refrigerate the topping for several hours so the ingredients meld. Immediately before serving, brush the bread with olive oil and toast it until it's crisp. Add sliced fresh mozzarella during the last minute or two of toasting, and bake until the cheese is golden and browned. Top the ciabatta toast with the tomato topping mixture.
The Sandwich
Ciabatta bread is a hearty artisan bread -- crunchy on the outside and tender and chewy on the inside. This texture makes it an ideal choice for paninis. It can stand up to lots of fillings without becoming soggy, yet isn't too tough to appreciate. Go with a tomato, basil and fresh mozzarella panini for traditional flavors, or spice things up a bit. Try a sandwich made from sliced turkey, fresh mozzarrella cheese, and roasted onions and red peppers. Slather the bread with chipotle-laced mayonnaise, pesto or a garlic-infused olive oil.
The Salad
The Italian bread salad, panzanella salad, was made for ciabatta bread and fresh mozzarella. This salad has endless variations, but it starts with chunks of good crusty bread toasted in olive oil and garlic. To the bread, add cubes of fresh mozzarella and sliced tomatoes, onions, peppers, cucumbers and olives -- or any other vegetables that strike your fancy. Try grilled eggplant or summer squash. You can even add cubed grilled chicken for heartier fare. Whip up a salad dressing of vinegar, olive oil, garlic, salt and pepper, and Dijon mustard. Toss the salad with the dressing and allow it to rest for at least 30 minutes to one hour. The bread will soak up the flavoring of the oil but won't become soggy.
The Pizza
When you're craving pizza, but don't have time to make homemade dough, break out the ciabatta bread. Slice a loaf horizontally and slather it with pizza sauce. Top the pizza with your favorite toppings. Grilled eggplant, artichoke hearts, roasted red peppers and capers taste delicious. You can't go wrong with pepperoni, olives and sausage. Top the whole thing with fresh mozzarella and bake the pizza on a baking sheet at 400 degrees Fahrenheit for five to 10 minutes -- just until the cheese is golden and bubbly.
References
Writer Bio
Julie Christensen is a food writer, caterer, and mom-chef. She's the creator of MarmaladeMom.org, dedicated to family fun and delicious food, and released a book titled "More Than Pot Roast: Fast, Fresh Slow Cooker Recipes."
Photo Credits
Image Source/Digital Vision/Getty Images