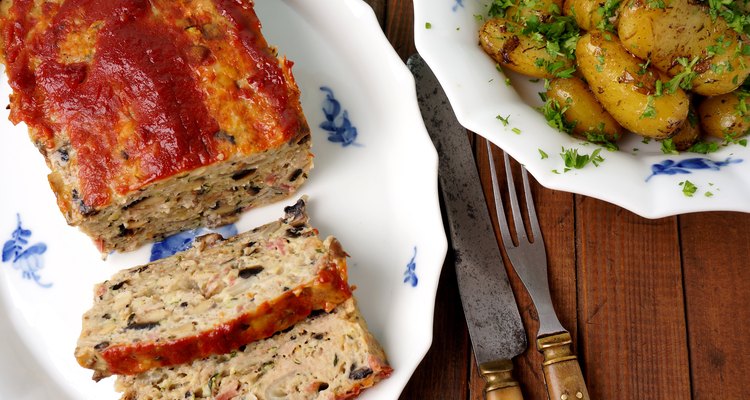 Esben_H/iStock/GettyImages
Meatloaf, that down-home, old-fashioned favorite that tops the list of favorite American suppers, can be a busy mom's go-to supper when life gets hectic. Add a few savory sides to a meatloaf main dish to round out the meal easily. Choose two or three side dishes with flavor combinations that will please the youngsters for a delicious main meal.
Salads
Serve a spinach salad with grape tomatoes and croutons for a delicious and nutritious salad. Top the salad with ranch dressing to make it even more appealing to kids. Other cold side options include potato salad and coleslaw.
Potatoes
Potatoes pair deliciously with the savory flavors of meatloaf. Make mashed potatoes and gravy for old-fashioned goodness. Smash red potatoes for a less-ordinary taste, or serve them roasted with tarragon, dill or rosemary or hash brown-style. Bake au gratin potatoes for the cheese-lovers in your family.
Other Starches
If potatoes aren't a family favorite, put other starches on the menu. Serve rice pilaf with onions, celery and almonds, or pasta with a light sauce made with olive oil, lemon juice, and fresh basil and parsley. An even healthier grain is couscous, served plain or with a variety of ingredients.
Vegetables
Boil ears of corn and let your kids slather them with butter or olive oil. Traditional hot vegetables that go hand-in-hand with meatloaf include green beans, steamed baby carrots, peas and asparagus. If the kids need a little encouragement in the vegetable department, add cheese sauce over broccoli, cauliflower or asparagus, or set the vegetables next to a bowl of ranch dip.
References
"Meatloaf: Recipes for Everyone's Favorite"; Maryana Vollstedt, et. al.; 2006
"Recipes for Real Life"; Robin Cook; 2005
Writer Bio
Kathryn Hatter is a veteran home-school educator, as well as an accomplished gardener, quilter, crocheter, cook, decorator and digital graphics creator. As a regular contributor to Natural News, many of Hatter's Internet publications focus on natural health and parenting. Hatter has also had publication on home improvement websites such as Redbeacon.