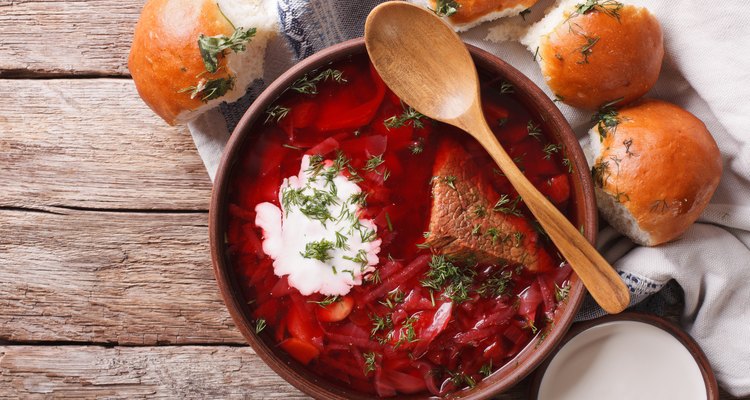 ALLEKO/iStock/GettyImages
Colorful Salads and Comforting Starches
Borscht is a traditional Russian and Ukrainian staple, and it's enjoyed a nontraditional comeback in the United States as the farm to table movement has created a renewed enthusiasm for the humble beet. You can pair borscht with starchy comfort foods to make filling, satisfying meals or you can serve borscht with lighter side dishes to create colorful soup and salad combos.
Bountiful Bread
Bread is a staple when it comes to side dishes for borscht. Spread butter on pumpernickel toast for a richly flavored side that you can dip into the hot soup. Serve the hot or cold soup with white rolls for a mellow background flavor or with honey wheat rolls for a sweet taste. Sprinkle buttered breadsticks with garlic powder to add a hint of spice to the soup. Fold feta cheese into biscuit dough to make tangy biscuits to balance the sweet taste of the borscht.
Flavorful Side Sandwiches
Small sandwiches or half-sandwiches are classic sides for any soup, even borscht. Grill a marble rye and mozzarella cheese half-sandwich for a traditional side that enhances the sweet flavor of hot borscht. Stack pastrami, tomatoes, lettuce, Swiss cheese and honey mustard on a small wheat bun for a flavorful side dish that works with hot or cold borscht. Layer roast beef lunch meat, green onions, mushrooms, mayonnaise and horseradish sauce on Russian rye bread for a simple sandwich with a little bite.
Fresh Garden Salads
Garden salads that pair well with beets are typically those that also contain sweet and earthy flavors. Toss mixed greens, carrots, scallions and a balsamic vinaigrette together for a simple salad with a light flavor. Mix baby spinach, red cabbage, red onions, baby carrots and pickled beets together for a sweet and sour salad. Combine romaine lettuce, diced tomatoes, crumbled goat cheese and a citrus vinaigrette dressing for a tangy twist.
Steaming Hot Potatoes
Hot potato sides often pair well with hot borscht, mainly because potato has a mellow taste that allows the beet flavor to take center stage. Serve a baked potato with butter for a simple side that balances out the robust flavor of the beets. Mix green onions and sour cream into twice-baked potatoes to gently echo the tangy taste of the onions and sour cream often found in borscht. Toss home fries with garlic salt for a classic side that adds a subtle spicy flavor.
Light Fruit Salads
Not many fruits pair well with Russian borscht, but there are some that help bring out the sweet flavor of the cold soup. Mix red apples and walnuts with a little lemon juice for a side dish with a subtle flavor. Toss diced oranges, raisins and parsley together for a simple side with an acidic bite.
References
Resources
Writer Bio
A writer since 2000, Aya Pauli has covered a variety of topics including food, fashion, beauty, health, parenting, education, decor and crafts. Her award-winning recipes have been published in food magazines such as "Taste of Home," and she is also the author of a salad cookbook. Pauli's craft projects appear in major manufacturer websites, including Dow Styrofoam. She also holds a CDA in early childhood education and works as a preschool teacher in Wyoming.