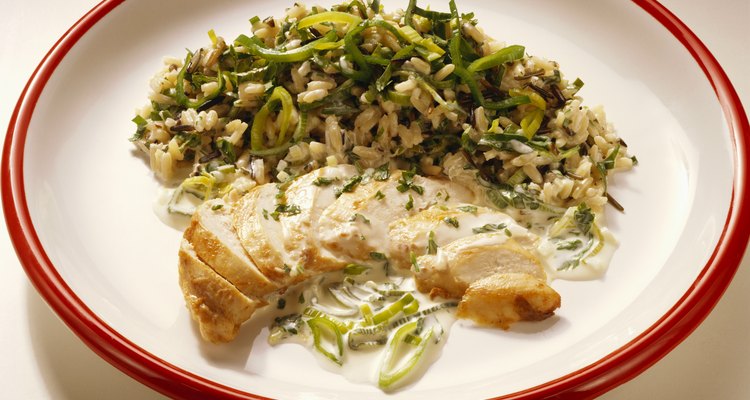 Eising/Photodisc/Getty Images
Boiling chicken in water leaves the flavor pure, so the meat works in any chicken recipe. Whether you boil a whole chicken or chicken breasts, the process is the same. You boil the meat until it reaches an internal temperature of 165 degrees Fahrenheit, drain the water and cut or shred the chicken as needed. The boiled meat alone is a bland dish, but that's part of the reason it works well with a variety of cooking styles.
Asian-Style Dinners
Sweet or spicy, there are many ways to give boiled chicken an Asian flavor. Mix shredded chicken, mixed greens, celery, mandarin oranges, sesame seeds, teriyaki sauce and mandarin orange juice to create a delicately sweet salad. Toss cubed chicken with water chestnuts, carrots, jasmine rice, soy sauce, ginger powder and black pepper for a simple dish with a spicy kick. Stir chicken broth, soy sauce, seasoned rice vinegar, brown sugar, ginger powder and cornstarch together to create a sweet and sour sauce for chicken stir fry. Stir-fry diced chicken with carrots, bamboo shoots, baby corn, bok choy and the sauce for a tangy meal.
Italian-Style Dinners
Italian-style chicken dishes are as well known for their herbal blends as they are for their use of pasta. Mix shredded chicken meat into canned minestrone soup and serve the dish with a crusty roll for a quick, hearty dinner. Toss cubed chicken with seasoned tomato sauce and whole-wheat spaghetti for a classic spaghetti dinner with a low-fat meat. Serve a boiled chicken breast over fettuccine and top with a parsley, basil, roasted garlic, Parmesan cheese and lemon butter sauce for a rich dish with a hint of tang.
Mexican-Style Dinner
Break out the tortillas to turn boiled chicken into a Mexican-style meal. Layer shredded chicken, shredded cheese and salsa between two flour tortillas and lightly fry to create zesty chicken quesadillas. Roll shredded chicken, guacamole, tomatoes and refried beans in a flour tortilla and bake for a creamy chicken burrito with a mellow taste. Stuff corn taco shells with shredded chicken, mango salsa, lettuce, onion and tomato for a classic Mexican-style dish with tropical flair.
Cajun-Style Dinners
Cajun cooking is known for its spice blends, especially for something as mellow as boiled chicken. Sprinkle a boiled chicken breast with cayenne pepper, onion powder, garlic salt, black pepper and cumin to create a relatively simple Cajun dish that goes well with red beans and rice. Simmer shredded chicken, smoked sausage, rice, onion, celery, bell peppers and okra in chicken stock, tomato sauce, file powder, cayenne pepper, white pepper, garlic salt, thyme and parsley for a mock gumbo stew with a little bite.
References
Writer Bio
A writer since 2000, Aya Pauli has covered a variety of topics including food, fashion, beauty, health, parenting, education, decor and crafts. Her award-winning recipes have been published in food magazines such as "Taste of Home," and she is also the author of a salad cookbook. Pauli's craft projects appear in major manufacturer websites, including Dow Styrofoam. She also holds a CDA in early childhood education and works as a preschool teacher in Wyoming.
Photo Credits
Eising/Photodisc/Getty Images