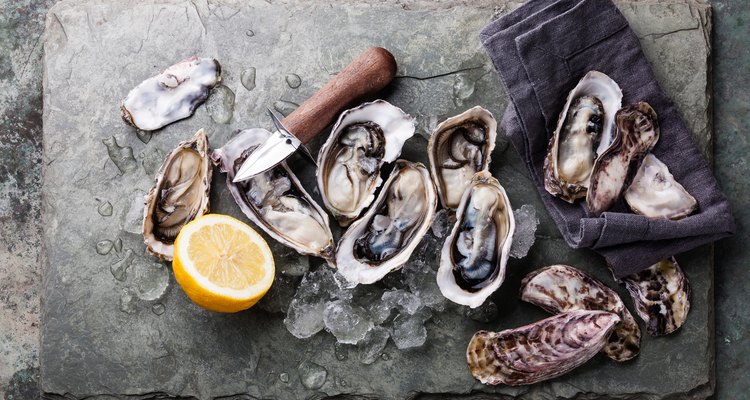 Lisovskaya/iStock/GettyImages
Oysters aren't the only thing you can cook at an oyster roast – there are many dishes that pair well with the light flavor of the seafood. An oyster roast tends to be a cold-weather affair, which means side dishes for the feast tend to be warm recipes. While an oyster roast is technically a Southern-style spread, the recipes you cook at the roast can come from around the world, because oysters have a simple, salty taste that works with any cuisine.
Southern-Style Roast
Pair roasted oysters with classic Southern side dishes for a traditional feast. Bake cornbread muffins and serve them with honey butter for a sweet twist that helps mellow the saltiness of the oysters. Mix parboiled potatoes with red onion, celery, mayonnaise, mustard and garlic salt to create a simple potato salad with a hint of bite. Sauté green beans with crumbled bacon and onions for a rich side dish that pairs well with any salty main dish. Bake peach cobbler and top with whipped cream for a sweet finish.
Cajun-Style Roast
Take inspiration from Cajun cuisine to create an oyster roast dinner with a spicy kick. Bake cornbread with red bell peppers, cheddar cheese, cayenne pepper and onions for a flavorful side you can eat alone or top with oysters. Season sweet potato fries with garlic salt, onion powder, red pepper and thyme for a sweet and spicy dish. Simmer red beans and rice in plain tomato sauce to make a mellow dish that helps balance the spiciness of the other recipes. Bake whiskey bread pudding and top with cinnamon caramel sauce for a rich dessert.
Italian-Style Roast
Open up the herb cabinet for an oyster roast with an Italian-style flair. Toast thick slices of seasoned Italian bread with Parmesan cheese for a hearty side you can use to sop up the sauces often served with roasted oysters. Sauté tomatoes, carrots, bell peppers, parsley, basil and garlic in butter to create a flavorful dish that pairs well with seafood. Lightly fry garlic-seasoned slices of eggplant for a delicate side that adds some crunch to the meal. Bake a pistachio cake and top with cream cheese frosting for a sophisticated sweet with a nutty twist.
Mexican-Style Roast
Break out the beans and tortillas to create an oyster roast with a Mexican-style theme. Simmer refried beans with sour cream and green onions for a creamy side that gently echoes the saltiness of the oysters. Fill corn tortillas with pepper jack cheese and lightly fry to create quesadilla slices with a spicy bite. Lightly sauté baby corn, zucchini and red onion in lime chipotle salsa for a light side you can dip the oysters into like a sauce. Fry flour tortillas in oil and sprinkle with cinnamon-sugar for a crispy dessert with a simple flavor.
Writer Bio
A writer since 2000, Aya Pauli has covered a variety of topics including food, fashion, beauty, health, parenting, education, decor and crafts. Her award-winning recipes have been published in food magazines such as "Taste of Home," and she is also the author of a salad cookbook. Pauli's craft projects appear in major manufacturer websites, including Dow Styrofoam. She also holds a CDA in early childhood education and works as a preschool teacher in Wyoming.